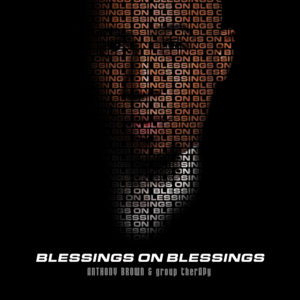 "Blessings on Blessings"
Anthony Brown and Group TherAPy
Key of A / Tyscot / FairTrade (release date: May 3, 2019)
www.tyscot.com
By Bob Marovich
"Every time I turn around…blessings," Anthony Brown sings, and he knows whereof he speaks.
The group has gone from backing Maurette Brown Clark on her highly-acclaimed album The Dream (2007) to racking up their own chart action, which led to numerous Stellar Award wins, Grammy and Billboard Music Award nominations, and other honors.
Inspired by the go-go style popularized in the Washington, DC, area, "Blessings on Blessings" is a bouncing, joyous paean to the sunshine that comes after the rain.
At the same time, Brown and his singers aren't hoarding all the goodness for themselves—the song encourages listeners to join them in worshiping the Lord and gaining their share of divine favor. Blessings might not rain down as speedily as the song suggests, but you wouldn't know it from the group's infectious enthusiasm and supreme confidence.
"Blessings on Blessings" will appear on the group's forthcoming album, Second Wind, which will feature vocal cameos from such top-shelf worshippers as Tasha Cobbs Leonard, Erica Campbell, Kelontae Gavin, Jonathan McReynolds, Gaye Arbuckle, Anaysha Figueroa Cooper, rapper 1K Phew, and Jamaican Reggae artist DJ Nicholas.
Check out the Journal of Gospel Music's 2012 interview with Anthony Brown: http://journalofgospelmusic.com/gospel/anthony-brown-im-a-servant-at-heart/.