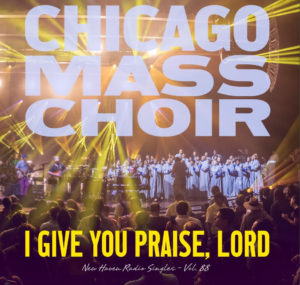 "I Give You Praise, Lord"
Chicago Mass Choir
From the New Haven Records CD
I Give You Praise (2016)
www.chicagomasschoir.com
On their latest single, "I Give You Praise, Lord," the celebrated Chicago Mass Choir delivers P&W with P&D (power and drama).
The song begins with the sopranos singing delicately, like a praise team, and opens like a flower when the key changes.  From there, the song builds to a sonorous strength.
All the while, longtime Chicago Mass songwriter and producer Percy Gray lifts each line for the choir's response and assent.  The semi-a cappella segment at the end rounds up any listeners not already convinced of the choir's conviction.
The album, I Give You Praise, has been nominated for a Dove Award for Traditional Gospel Album of the Year.