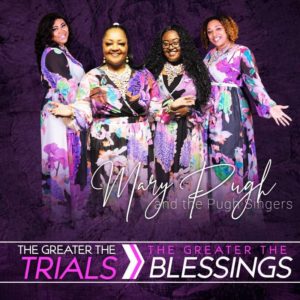 "The Greater the Trials, the Greater the Blessings"
Mary Pugh & the Pugh Singers
Overboard Records (2019)
https://store.cdbaby.com/cd/marypughthepughsingers
By Bob Marovich
On "The Greater the Trials, the Greater the Blessings," Grove Hill, Alabama, female quartet Mary Pugh & the Pugh Singers offers an encouraging paradox that sounds as if it came straight from the Sunday morning pulpit.
"Looking back over the years / I've been through some storms," Mary sings, adding that she knew God would "show up in the rain." To reinforce its James 1:12 message about the reward of being tried by fire and enduring, the group quotes Psalms 30:5 ("Weeping may endure for a night…"). It's all to a loping tempo with that distinctive deep-groove southern soul quartet sound.
The original Pugh Singers was a family group organized in the early 1970s by Odell Pugh Sr., a guitarist for the Gospelistics. In 2008, after decades of singing, traveling, and recording, the group changed its name to Mary Pugh & the Pugh Singers. "The Greater the Trials" is the ladies' new single on Darrell Jay Jones' Overboard Records.