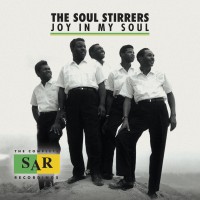 Soul Stirrers
Joy in My Soul: The Complete SAR Recordings
ABKCO Records (release date: January 27, 2015
www.abkco.com
By Bob Marovich
The first ABKCO compilation of Soul Stirrers recordings on the legendary SAR Records was released more than a decade ago. With sixteen tracks, the Stirrers had the lion's share of sides on the gospel portion of that two-CD set, but that was all; the rest of the set needed to feature other SAR artists.
Gospel quartet enthusiasts as well as Soul Stirrers fans will therefore appreciate Joy In My Soul because it is all Soul Stirrers. And of the 33 selections on two CDs, four sides are previously unreleased.  How often do you get a chance to hear unreleased Stirrers sides?
When Specialty folded in 1959—owner Art Rupe exhausted from operating an independent record company for more than a decade—the Stirrers were a major gospel quartet in need of a label home. This inspired Sam Cooke, J.W. Alexander of the Pilgrim Travelers, and Senior Roy Crain of the Stirrers to form their own company. They named it SAR: Sam, Alex, and Roy.
Music historian Bill Dahl states in the album notes that by 1959, when the Stirrers entered Chicago's famed Universal Studio on Walton Avenue to make their first SAR sides, there wasn't much they had left to prove. Nevertheless, the SAR discs provided brilliant new examples of the fresh, youthful sound the Stirrers had exuded since Sam Cooke replaced R.H. Harris in early 1951.
This new two-CD set covers the Soul Stirrers 1959-1964 period, when Cooke was in the producer's chair and new leads such as Johnnie Taylor, Jimmy Outler, and James Phelps emulated and extended Cooke's handsome pop sensibility and gospel yodel. An amalgam of gospel and R&B musicians, including guitarists LeRoy Crume and Clifton White and bass players Johnny Pate and Sonny Mitchell, gave the quartet significant crossover appeal. The SAR-Soul Stirrers partnership lasted until late 1964. Cooke's untimely death in Los Angeles in December of that year effectively ended SAR.
Since ABKCO has access to the original tapes, the sound leaps off the CD. The voices and musicians are as crystal clear as if they were performing in your living room. Even though I have many of these cuts on vinyl, they sound fresher on Joy in My Soul.
ABKCO is also releasing a compilation by the Valentinos on January 27. Lookin' For a Love: The Complete SAR Recordings includes four of the Valentinos' religious tracks under their gospel handle, the Womack Brothers (the group started its music career in Cleveland as the Womack Brothers). Not surprisingly, many of the Valentinos' secular sides captured the gospel beat.
SAR Records was a bold and successful, if tragically brief, experiment in African American artists taking control of their own recording destiny. Had Cooke not perished, one can only imagine what more of an impact SAR would have made on American popular music.
Five of Five Stars
NOTE: Joy In My Soul includes the song "Time Brings About A Change," featured in the soundtrack to Selma.