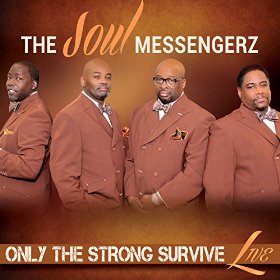 "Take It Easy"
The Soul Messengerz
From the 4 Winds Records CD
Only The Strong Survive—Live (2014)
www.malaco.com
Pastor D. B. Coley of the Soul Messengerz tenderly introduces this quartet piece about taking it down a few notches and putting life's stresses and worries in God's hands. The soft soul harmonies, major seventh chords, and delicate musicianship wash over the listeners like a spiritual bubble bath.
Organized in 2008, the Soul Messengerz of Washington, DC, has as its core members, Pastor Coley, Justin N. Young, Johnny Matthews, Minister Charles A. Young, James Vines, and Gregory Parrish. Their album, Only the Strong Survive–Live, was released in August 2014.