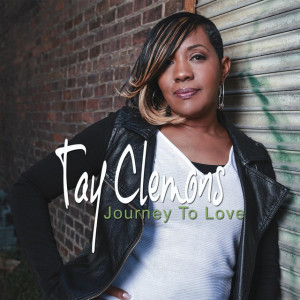 Tay Clemons
Journey to Love
We Dream Entertainment Group (December 2014)
www.tayclemons.com
By Bob Marovich
No love song written and performed by a woman is nearly as powerful and heartfelt as those she has written to express her affection for Jesus. Proof of this hypothesis can be found among the songs on Shantavia "Tay" Clemons's debut album Journey to Love.
Born in Fayetteville, North Carolina, Clemons wraps her clear, pop-inflected voice around a stack of love songs to the Most High. She receives ample support in the first few cuts by processed electronic urban AC and solid rap interludes from Jeruse, B-U, and Siah. Thumping bass and throbbing beats underpin songs such as "My First Love," a testimony to how Jesus's love surpasses all. The second half of the two-part "He Knows" shifts into a quieter, melodic mood, and prepares the listener for the 1970s soulful strings of the current single, "Child of the King."
The top selection on the album is "Crazy." Clemens offers her strongest singing here, marveling with gratitude how Jesus can be so "crazy that you would give your life for me." She expresses a similar sentiment on "Why Do You Love Me" by acknowledging that God loves us despite our many faults. Given such perfectly unconditional love, it is no surprise that sacred love songs far surpass secular love songs in adoration and authenticity.
Toward the end of the album, the music shifts to a Christian rock sensibility. "Take Me Back," which Clemens wrote with her husband, Nate Clemons, is bathed in an acoustic alchemy. Darnell "Showcase" Taylor lets rip on the electric guitar for "And I Know," "Save Me," and "Life."
The production of Journey to Love is a family affair. Tay and Nate Clemons operate We Dream Entertainment Group, the album's label, and co-produced the record in Durham (Go Duke).
Three of Five Stars
Picks: "Crazy," "Child of the King."