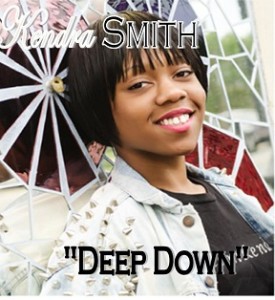 "Deep Down"
Kendra Smith
From the DeVine Records Management CD
Something New (2014)
www.kendrasmith.org
Independent artists fuel the future of gospel music. Without their hunger and desire to be heard, the genre would be in perpetual danger of stagnating.
Proof positive: seventeen-year-old Kendra Smith of Florence, South Carolina. The 2012 South Carolina Music Awards Gospel Artist of the Year and Rhythm of Gospel Award nominee, indie artist Smith is a young woman with a commanding voice and confident presence.
Her new single, "Deep Down," has an old soul but a modern beat.  Smith has the love of Jesus "way down, deep down in my heart" and wants to tell the world about it.
Smith, who pays her blessings forward to the community through The Kendra Smith Music Foundation Scholarship, has been recording since 2008.  A young woman to watch.