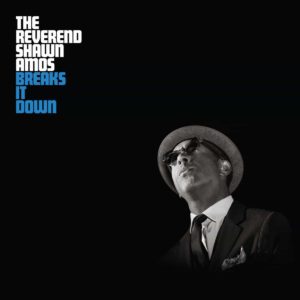 The Reverend Shawn Amos
Breaks It Down
Put Together Music (release date: February 16, 2018)
www.shawnamos.com
By Bob Marovich
The Reverend Shawn Amos might just be the most righteous preacher who's not a preacher.
Amos, whose mother was nightclub singer Shirl-ee May and whose father was a William Morris Agency executive and founder of Famous Amos cookies, is not a licensed ordained minister. Nevertheless, he uses his platform to speak truth to power, and pulls on a lifetime spent in the music business to accentuate the urgency of his message with fistfuls of biting blues guitar and harmonica.
"21st Century Freedom Songs" is how the nine tracks on The Reverend Shawn Amos Breaks It Down are described. And that's accurate. Amos's Americana roots music pulls heavily from gospel, blues, R&B, and rock to portray an aural picture of the present darkness while remaining hopeful of a brighter future.
The album's several songs of social significance are blunt without being hyperbolic or hysterical.  Instead, they calmly call for a course correction that favors love over hate as the best bequest we can give our children.
For example, "Hold Hands" and the Memphis-influenced "(We've Got To) Come Together" (recorded at the legendary Royal Studios) are pleas for global togetherness as one family, regardless of differences. "2017" entreats us to "open up our hearts and brains" if for no other reason than to protect our children and ensure their future. Amos's gospelizes Nick Lowe's "(What's So Funny 'Bout) Peace, Love, and Understanding," using literal vocal harmony to call for figurative harmony.
Some of the rawer selections are especially impactful. A piece in Amos's Freedom Suite is "Uncle Tom's Prayer," which uses ancient ballad form to articulate the struggles of every man who knows what is right but whose survival leaves him conflicted on acting upon it. Evoking the blues musings of Leadbelly, "Does My Life Matter" is a stark reflection that hits at the heart of the racial divide today.
The Reverend Shawn Amos breaks it down, indeed. In the final analysis, it comes down to love.  Can I get an Amen?
Four of Five Stars

Picks: "(We've Got To) Come Together," "(What's So Funny 'Bout) Peace, Love and Understanding"