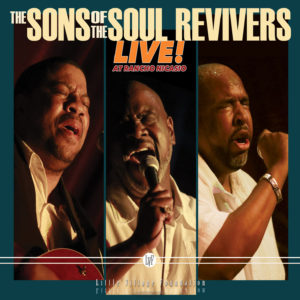 The Sons of the Soul Revivers
Live! Rancho Nicasio
Little Village Foundation
www.littlevillagefoundation.org
By Bob Marovich
The Sons of the Soul Revivers are on a quest to achieve the kind of widespread visibility that the Blind Boys of Alabama and the Fairfield Four have enjoyed for the past three decades.
Based on the sound of their new album, Live! Rancho Nicasio, the guys are definitely on the right track.
Recorded during two sold out shows at the Rancho Nicasio, a roadhouse in Marin County, California, that specializes in presenting roots music, the album was produced by the Little Village Foundation, a nonprofit record company whose mission is to release music that other labels do not typically feature.
What strikes the listener immediately is the clarity of the sound. The instrumentation is full-bodied but at the same time sufficiently toned down to make room for the harmonies. The result is that the listener can hear every word and can enjoy every harmonic nuance, and still feel the power and presence of the musicians.
Every other song on the eleven-track album is in drive tempo, with the pulsating "Joy" among the standouts, though "It's a Needed Time" is so effervescent, one doesn't want it to end. On the slower and softer side is the old standby, "Pilgrim and a Stranger," featuring creamy harmonies that evoke 1970s quartet singing. The most insightful lyrics can be found on "The Man in the Middle," a description of Calvary.
Made to feel like a 50 minute quartet program, Live! Rancho Nicasio concludes with an eight-plus-minute workout, "I'm a New Creature," during which the Sons of the Soul Revivers invites the audience to come down to the front and get in the spirit emotionally, spiritually, and physically.
The Sons of the Soul Revivers was formed by Walter Morgan Jr. in 1970 to carry on the tradition of the Original Soul Revivers, a quartet founded by his father, Walter Morgan Sr., and his uncles. The Morgan brothers—Walter Jr., Dwayne, and James—are joined by Oliver Calloway on drums and DaQuantae Johnson on vocals and bass guitar. Little Village Foundation founder Jim Pugh assists on organ and Thomas Smith on guitar.
This is a delightful album in style, sound, and crispness of production. May it help the Sons of the Soul Revivers realize their dream of crossover success.
Five of Five Stars
Picks: "Joy," "Pilgrim and a Stranger," "It's a Needed Time."