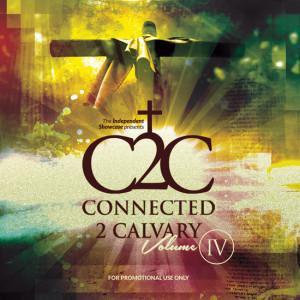 Various Artists
Connected 2 Calvary Vol. IV
www.connected2calvary.com
By Bob Marovich
At a recent panel discussion co-hosted by the Chicago Department of Cultural Affairs and Special Events and the Recording Academy, gospel artist Tye Tribbett joked that releasing music in today's technological society means literally releasing it, setting it free to be streamed and downloaded for no charge.  Music can be gotten for free in so many ways, a recording has become nothing more than an aural business card to promote live performances.
That is okay by Connected 2 Calvary. They recognize and understand the importance of samplers to showcase new artists.
A collaboration between ten different promotional companies, the Connected 2 Calvary series of free, downloadable compilations of independent gospel artists offers listeners a passing parade of emerging soloists and groups working in a variety of sub-styles. Hosted by gospel announcer "Wanda P" Patterson of "The Independent Showcase Radio Show," Volume IV dabbles in contemporary gospel, neo-soul gospel, gospel jazz, Christian hip hop, and hard-hitting traditional choral rousers. His Sound Ministries' "Jesus Saves" and Johnny Sizemore & One Accord's "I'm Standing," represent the traditional and are among the album's highlights.
Another standout track is Jay Bratten, Aaron Camper, and Kaneisha Trott's delicious take on Keith Getty and Stuart Townend's popular Celtic-like hymn, "In Christ Alone." Terence Clayton's "Nobody Like Our God" is the album's most pleasant surprise, a radio-friendly track from a powerful ensemble that grows on you with every passing minute. Bratten returns later with "Leanin'," the funkiest version of "Leaning on the Everlasting Arms" I've heard to date.
In a day and age when corporate radio keeps its playlist small and limited to gospel's current major players, samplers like Connected 2 Calvary are an important way for emerging indie artists to get noticed.
Download Volume IV, and the three preceding Connected 2 Calvary volumes, for free at www.connected2calvary.com/music.htm. Do it. It's okay.  They want you to.  But be sure to give back by buying the artists' music or pay to see them perform live when they come to your community.
Four of Five Stars
Picks: "In Christ Alone," "Jesus Saves," "I'm Standing."