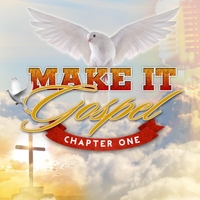 Various Artists
Make It Gospel: Chapter One
(release date: October 18, 2017)
https://store.cdbaby.com/cd/makeitgospelchapterone
By Bob Marovich
Make It Gospel: Chapter One is an independently-produced EP that showcases three "hidden jewel" gospel quartets: one male (Men of Fellowship), one female (New Stars of Faith), and one young group (Psalm 100).
All three quartets are quite good, demonstrating that for every gospel superstar, there are thousands of gifted artists throughout the country, trying to be noticed.
The meaty vocals and even harmonizing of Men of Fellowship make for enjoyable listening, while the edgy-voiced lead singer of the New Stars of Faith of Durham, North Carolina, sounds perpetually one stanza away from shifting into evangelist mode.
Psalm 100 naturally has a more modern swagger and embraces its newness on "Will It Be OK." In the song's lyric twist, the singers, awash in contemporary quartet instrumentation, declare their fondness for old time religion while chiding the showoff-y church members who unabashedly embrace consumer culture. The New Stars of Faith's "Thank You Jesus," with its simple and traditional offering of gratitude, is the best song on the six-pack.
Ron "Bass" Clark, alumnus of the Mighty Clouds of Joy, gives these six tracks crisp production and an excellent balance between lead, quartet, and musicians. Frances "Lady Fran" Watkins, CEO of Right Touch Productions, is the executive producer.
Those who attend gospel quartet programs with regularity will especially enjoy this brief but solid selection of songs, and will look forward to Chapter Two.
Four of Five Stars
Pick: "Thank You Jesus"