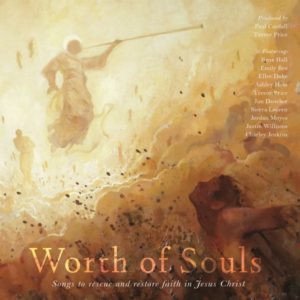 Various Artists
Worth of Souls
Stone Angel Music (release date: April 27, 2018)
www.worthofsoulsproject.com
By Bob Marovich
On "Come as you Are," the opening selection of the Worth of Souls project, former American Idol contestant Kenz Hall quotes Thomas Moore: "Earth has no sorrow that heaven cannot heal."
To paraphrase Moore, Worth of Souls also believes that there is no sorrow that heavenly music cannot heal. The restful, relaxed quality of this collection of Christian songs is not by accident. It was produced on the premise that we are what we hear—and that those who struggle with depression can benefit from listening to uplifting music with positive messages.
Of course, you don't have to be struggling with anything but life's daily challenges, or trying to understand how the world turns, to enjoy the original songs and covers on this collection. Produced by Paul Cardall, a Pandora favorite with more than 25 million monthly listeners, Worth of Souls is a gathering of singers and musicians who possess top-notch resumes, come from a variety of musical influences, and have a singular focus: to comfort the brokenhearted.
The theme of the album centers around letting go and letting God. As articulated on Emily Bea's testimonial "Push and Pull" and Justin Williams' "Redeemed," God has all power in His hands, so we don't have to tilt at problems by ourselves. On "Tears of the Saints," one of the album's more dramatic moments, album co-producer Trevor Price sings about the troubles of the world today. But instead of expressing it in frustration, he believes the "prodigal sons" who are inciting anti-social behavior will ultimately do what their biblical namesake did.
But letting go and letting God is not easy, as Charley Jenkins' "That Mountain" suggests. This Christian song with country crossover potential teaches that we don't always get what we pray for. Because there is a master plan, what we need may be at the expense of someone else. "He Knows What He's Doing," another Jenkins cut, reinforces this lesson.
The new age piano instrumental "The Homecoming" is a brief but beautiful interlude courtesy of Michael W. Smith music director Jim Daneker.
Worth of Souls slows the heartrate through both music and message. And for those with depression, where hope and encouragement can feel beyond reach, the CD puts hope and encouragement within reach.
Four of Five Stars
Picks: "That Mountain," "The Homecoming"