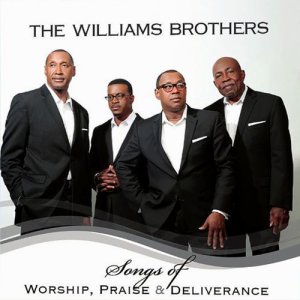 The Williams Brothers
Songs of Worship, Praise & Deliverance
Blackberry Records (2014)
www.blackberryrecords.com
By Bob Marovich
With more than 50 years of harmonizing under their belt, the Williams Brothers are an institution in the quartet community.
The group's longstanding willingness and ability to adapt to the latest in sacred and secular sounds is exemplified in its latest album, Songs of Worship, Praise & Deliverance. Here, the Williams Brothers attach their meaty quartet harmonies to the meditative Praise & Worship style currently sweeping the gospel music and church communities.
Listeners expecting to hear hip-slapping, drive-tempo traditional quartet singing on Songs of Worship, Praise & Deliverance will be in for a surprise. The album's vibe is relaxed and contemplative—prayerful, really—and an uncredited small chorus of singers backs the vocalists on ten easy-as-Sunday-morning selections.
As if to telegraph the album's distinctive vibe, church-wrecker Beverly Crawford builds the temperature incrementally rather than convert the opening song, "You Are," into an instant revival. Indeed, Crawford sounds like Gladys Knight in her composed authority. Likewise, Bishop Neal Roberson, a longtime traditional quartet maven, takes it easy on "I Give Up."
Clever turns of lyric, a Williams Brothers staple, show up several times. For example, although its title suggests finality, "I Give Up" is not at all about giving up. Roberson declares that when you feel like giving up, turn it over to the Lord.  On  "Constantly," quartetter D.J. Rogers leads the group in the mantra, "I constantly thank you / He constantly blesses me."
One of the most Williams Brothers-sounding of all tracks on the album is the concluding cut, "Just to Say Thank You." The quartet delivers this song of unconditional praise with its trademark  smooth and rhythmic harmonies.  Similarly, on "This is Your Night," the quartet recalls what an "old preacher said at a revival meeting down in Mississippi," while the choir encourages congregants to come to the altar.
As is their MO, the Williams Brothers accomplishes a fine balancing act between their traditional roots and today's gospel on this latest offering.
Three of Five Stars
Pick: "This Is Your Night," "Just to Say Thank You."