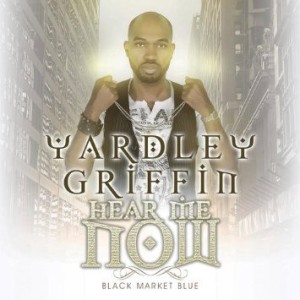 Yardley Griffin
Hear Me Now
Black Market Blue (release date: September 11, 2015)
www.blackmarket.blue
By Bob Marovich
Yardley Griffin knew from age seven that he wanted to serve God. At sixteen he began writing songs and turned his interest in music into a job as worship leader at Destiny Church, the Sacramento, California, church founded by his grandfather in 1963.
Griffin is now executive pastor of Destiny Church, but more responsibility has not stalled his singing pursuit. In September, he released Hear Me Now, a mostly live recording of original songs.
During Hear Me Now, we discover that the wiry Griffin is most vocally confident during a song's concluding moments. For example, on the muscular praiser, "You Are Good (We Worship)," he raises the intensity of the performance by shouting like a preacher in full whoop. In two instances, Griffin incites a rousing response from his live audience by tagging old hymns and gospels at the end of original songs. "Powerful" concludes with an interpolation of "There is Power in the Blood." The bluesy emotion of "I Need Thee Every Hour" at the conclusion of the title track puts the entire gathering into praise break.
The plaintive "Hear Me Now" has a backstory. After Griffin lost his youngest brother in 2010, he was so consumed with grief that he had difficulties talking with God through prayer.  From this experience came the song, which echoes the story of Jesus praying at Gethsemane.  From the sound of Griffin's performance of the song, the grief is still very real.
Hear Me Now is not without a couple of minor hiccups, most notably some difficulties ensuring that Griffin's lead mike overpowers those of his background vocalists.  Also, "I Love You" and "Powerful" are out of order on the track listing.
The album shines brightest during the two final studio-produced tracks. "Know You" finds Griffin in top form, with brass and violins caressing the lyrics. "Flawed" is a reminder that none of us are perfect but God loves us anyhow.
Three of Five Stars
Picks: "Hear Me Now," "Know You."