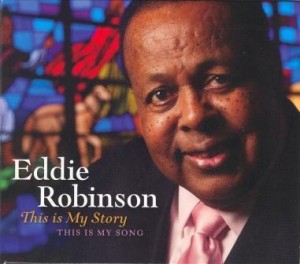 Gregory Gay of GOSPELflava.com informed the Journal of Gospel Music of the passing of Edward "Eddie" Robinson.
Robinson was a gospel piano accompanist for such leading lights as Robert Anderson and Mahalia Jackson.  He played on the Caravans' April 1952 recording debut and toured Europe with Mahalia Jackson.  In 2011, Robinson recorded his first solo album for The Sirens Records: This Is My Story, This Is My Song.
You can read more about Robinson's life here:  www.thehistorymakers.com/biography/edward-robinson-39
On Saturday, November 15, WLUW-FM's "Gospel Memories" will feature a long set of Eddie Robinson classics (www.gospelmemories.com).
JGM will share more details on Robinson's homegoing service as information becomes available.
Editor's Note: I had the pleasure of meeting Eddie years ago.  He was a very affable, welcoming person, and humble, despite his many accomplishments in the world of sacred music.