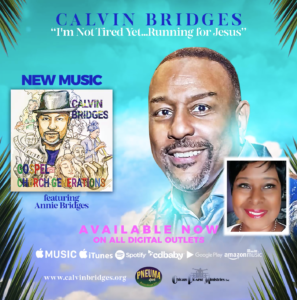 "I'm Not Tired Yet…Running for Jesus"
Calvin Bridges ft. Ann Bridges
From the PNEUMA/Spirit Recordings, Inc. CD Gospel Church Generations
(single release date: February 2, 2021)
www.calvinbridges.org
By Robert M. Marovich
Although he is a talented songwriter, Calvin Bridges reaches back to the Caravans catalog for an oldie but goodie.
Together with Ann Bridges, Calvin belts out this fire starter with a passel of fine supporting vocalists. Although the team takes the tempo a little slower than Inez Andrews did in 1958 and Pastor Shirley Caesar some years later, it still moves at a brisk pace.
"I'm Not Tired Yet…Running for Jesus" was recorded live at Chicago's historic Greater Harvest Baptist Church at the end of the last decade with support from the combined forces of the Greater Harvest Choir and the Chicago Metro Mass Choir of the Gospel Music Workshop of America. Just the right kind of churchy.