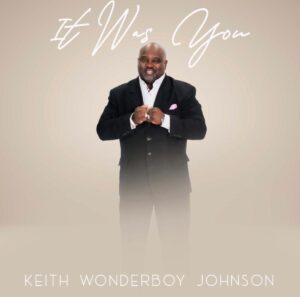 "It Was You"
Keith Wonderboy Johnson
Blacksmoke Music Worldwide (release date: January 28, 2022)
By Robert M. Marovich
"It Was You" is a slow, soulful testimony by quartet maven Keith Wonderboy Johnson.
Backed by a quartet and musicians who deliver a deep '70s southern soul groove, Johnson expresses his relief and gratitude to the Lord for rescuing him from the miry clay of pain, trials, and tribulations. Foremost among them were acute physical challenges and years of depression. "But you brought joy into my life," Johnson concludes, "now I have no fears." He could have kept on going past the song's ending time.
Those familiar with Johnson's quick-time recordings will also appreciate this intensely honest prayer-ballad, which he renders from a toolkit of blue notes, shouts, and squalls like a preacher in full whoop. His conversational style of singing, with well-timed pauses and shifts in emphasis, is designed to garner rapt attention, and it does. It's that kind of song that hits you straight in the heart.