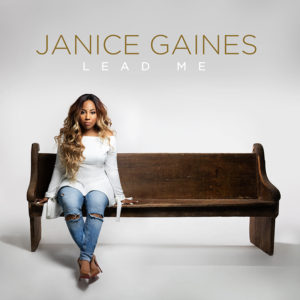 Janice Gaines
Lead Me
(release date: March 22, 2019)
www.janicegaines.com
By Bob Marovich
Janice Gaines' Lead Me is a brief but satisfying journey through the hymnbook.
It is also a far better showcase for her affecting vocal delivery than Greatest Life Ever, her 2015 album for Motown Gospel. Whereas that album aimed to attract a mass audience by offering generous helpings of bumping bass and electronica, it seemed ill-fitted to Gaines's more grounded talent. This album, on the other hand, employs the less is more philosophy, meaning it is more authentically rooted in gospel's one foundation: the church.
As if to immediately make amends for the past, the album opens with a beautifully-rendered version of "In the Garden." To a sensitive piano accompaniment, Gaines reads the song with well-crafted melisma—straight-up singing, no unnecessary showmanship.
Dwan Hill, a GRAMMY Award-winning songwriter and producer, handles not only the keys (I suspect it is him on "In the Garden") but also the production. His gift is making this album enjoyable for traditional and contemporary gospel fans alike. For example, the typically ponderous "How Great Thou Art" gets a mid-tempo makeover and "What a Friend We Have in Jesus" moves to a leisurely bossa nova vibe, but the melodies and lyrics of both hymns still predominate. "Great is Thy Faithfulness" is also freed from its usually slow arrangement, though not so much as to alter the song's essential beauty.
On the other hand, Andrae Crouch's "My Tribute (To God Be the Glory)" moves a little too steadily to allow for maximum emotional impact. Here, a slower, more incrementally dynamic arrangement building to a majestic coda would have served better.
Complementing the standards is the title track, a new composition by Australian singer-songwriter Ben Abraham and based on Psalm 61, a passage that has inspired countless sacred songs in the past. Its minor key sensibility and gospel choir backdrop make it ideal for radio as well as a selection ready-made for film.
The album concludes with a reintroduction of Gaines's 2012 magnum opus, "One Day." This breathtaking song about hope and encouragement is all the more poignant when you realize that Gaines had a near-death childbirth experience and subsequently battled postpartum depression. Likely as not she has taken great comfort in the song's message.
At just a little more than 30 minutes, the album ends too soon. "I Need Thee," "Blessed Assurance," and "His Eye is on the Sparrow" would have been nice additions to the playlist and very much in keeping with the album's focus on church standards. And since most of the hymns Gaines sings are beloved in Protestant churches of all cultures, the album has the potential to cross over to the Christian albums list.
Of course, I could listen to Gaines sing every song accompanied only by acoustic piano, like "In the Garden," but my own eccentricities aside, Lead Me, with its variety of arrangements, is a smartly-crafted album. Like Heather Headley's GRAMMY Award-winning 2009 release Audience of One, Lead Me is distinctive, definitive, and timeless.
Four of Five Stars
Picks: "In the Garden," "One Day."