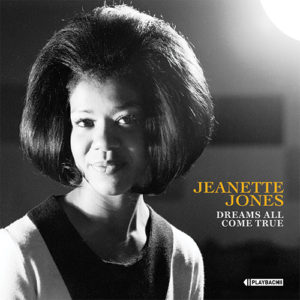 Jeanette Jones
Dreams All Come True
Playback Records (release date: May 19, 2017)
www.playbackrecords.net
By Bob Marovich
The title of Playback's compilation of every known secular and sacred solo recording by San Francisco singer Jeanette Jones is deliberately ironic.
All the more so in that Jones' beautifully-sung ballad, "Dreams All Come True," which gives the album its title, was recorded in 1968 but did not see the light of day until 2000. As Alec Palao's well-crafted and sympathetic essay for this compilation suggests, whatever career aspirations the comely alto may have had seemed never to materialize, despite her obvious vocal talent.
So one released pop single and solo spots with Mike Bloomfield's Mill Valley Bunch and the Voices of Victory of San Francisco gospel choir is all that we would have had of Jones were it not for several UK reissues over the years, including the latest, Dreams All Come True. Playback's comp combines 14 of Jones's known R&B and soul selections (including both sides of her 1969 single for Leo Kulka's Golden State label) and 6 gospel cuts where she leads the Voices of Victory.
Five of the six gospel selections are culled from the Voices of Victory's custom-made 1965 album on Golden State. Given the extensive amount of mic time Jones is afforded to deliver emotional leads to traditional pieces such as "There Is a Fountain Filled With Blood" and "He'll Understand" (aka "He'll Understand and Say Well Done"), it's clear that the choir knew it had struck gold with its soloist. Several times, you hear choristers shout, "Sing Jennie!"  They seem content to get out of her way at points.
Indeed, without Jones, the lo-fi Voices of Victory vanity pressing would have been as conventional as most church choir vanity recordings were prior to 1990. But truth be told, the Voices were ahead of their time. Recorded in 1965, the Golden State album came out three years before the Northern California State Choir of the Church of God in Christ's 1968 indie LP produced the hit version of "Oh Happy Day," birthed the Edwin Hawkins Singers, and opened the floodgates to vanity pressings by church choirs that hoped lightning would strike twice (it did for a few, but not for most).
Jones brings some of her gospel singing techniques to bear on her R&B and soul renditions. Cuts such as Gerry Goffin and Barry Goldberg's "You'd Be Good for Me" and "What Have You Got to Gain by Losing Me," both recorded in 1974, find her in intensely soulfully sung conversations with an assumed lover. Jones bites eagerly into the lyrics but stops short of the emotional growling, booming tones, and evangelistic vamping that she employs with the Voices of Victory.
The title track and "I Want You Mine," both written by Jay G. Barrett, showcase Jones's  ability to fill every atom of available space with her voice. While songs like "I Want Action" and "Cut Loose" are conventional dancers, "Jealous Moon," another Barrett composition, is clever in its likening of the moon to an enigmatic but ultimately green-eyed suitor.  Why this song was not released in the late 1960s, when it was recorded, is anyone's guess.
"Darling I'm Standing by You," one side of her Golden State pop single, is the secularization of "Why," which she recorded with the Voices a year earlier for the choir's Golden State 45 (both versions are included here). It turns out that "Why" is an arrangement of "Yield Not to Temptation," which leads to another irony. "Yield Not to Temptation" was the first recorded commercial solo by DeLois Barrett Campbell, who led the Roberta Martin Singers on their 1947 recording of the gospel hymn for Apollo Records. Although Campbell achieved the international accolades that eluded Jones, she, like Jones, never reaped the ample financial benefits she justly deserved.
The Voices of Victory's "There is No Failure in God" is erroneously attributed in the CD notes to Percy Bady, who would have been a toddler in 1965 when the song was recorded. In fact, the Voices sing "The Failure is Not in God, It's In Me," popularized by the Roberta Martin Singers and the Dorothy Norwood Singers.  It is likely that one of these two groups inspired the Voices' arrangement. But the error is not in Playback, it's in the Voices titling the song "There is No Failure in God" on their custom LP.
As of this writing, Jeanette Jones's whereabouts are unknown; JGM is checking its sources to see where she might be. Meanwhile, thanks be to Playback for keeping her dream alive.
Four of Five Stars
Picks: "He'll Understand," "Dreams All Come True."