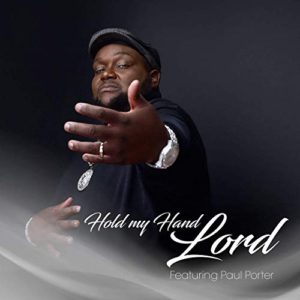 "Hold My Hand Lord"
Donny Pomerlee feat. Paul Porter
BBG Entertainment, LLC (release date: February 24, 2019)
www.wrightmusicgroup.org
By Bob Marovich
On "Hold My Hand Lord," Donny Pomerlee's lithe tenor and Paul Porter's gritty growl are like sugar and salt, and are just as addictive together.
A native of Chicago, Pomerlee honed his vocal and instrumental skills in city churches. He was named Praise and Worship Artist of the Year at the first Chicago Gospel Music Awards. In lyric and style, however, "Hold My Hand Lord" is about as far from P&W as you can get. Pomerlee's fourth single has that earthy gospel quartet vibe, featuring stinging guitars, a strutting beat, Porter's gut-wrenching vocal delivery, and a quartet backing the duo as they trade leads.
This song about needing the Lord's protective embrace is as down-home as red clay and magnolia trees. "Donny, I'm getting happy now!" Porter exclaims, then lets loose with a series of earth-shattering shouts.