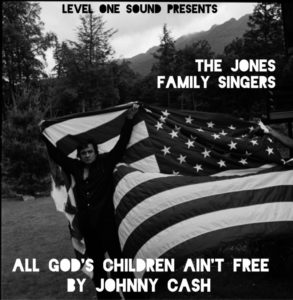 "All God's Children Ain't Free"
Level One Sound presents the
Jones Family Singers
www.jonesfamilysingers.com
It seemed appropriate, on this remembrance day for the Reverend Dr. Martin Luther King Jr., that JGM should spotlight the Jones Family Singers' newly-released cover of Johnny Cash's "All God's Children Ain't Free."
Bishop Fred Jones Sr. channels Cash's folksy rumination while daughter Alexis Jones-Giles accentuates the most important lines of the lyric with the vocal force of a human trumpet. The echo-y harmonies and jangly tambourine, when combined with the steady and minimal country beat, evoke Cash's original from his 1965 Orange Blossom Special (Columbia Records).
Recorded at Level One Sound in Austin, Texas, for GRAMMY Award-winning producer Adrian Quesada's "Live at Level One" cover series, the single formally launches the Jones Family Singers' East Coast tour.
"Everyone needs an opportunity right now," Bishop Jones said, "and this song is a necessary statement for us to make at this crucial time in our nation's history."
Because everything old is new again and because the present never seems to learn from the mistakes of the past.