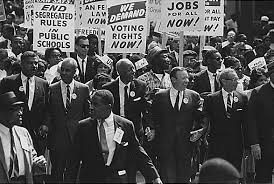 By Bob Marovich
Michael Castellini made ample use of the Black Gospel Music Restoration Project at Baylor University, and the counsel of gospel music historian Professor Robert Darden, to write his Master's thesis on gospel music and the civil rights movement.
In "Sit In, Stand Up and Sing Out!: Black Gospel Music and the Civil Rights Movement," Castellini argues that many components of the African American church and  church community, in addition to black sacred music, helped fuel the flames of the Civil Rights movement of the 1950s and 1960s.
The thesis is an engaging and thoroughly enjoyable read, providing a great deal of thoughtful analysis on the role of the African American church and gospel music in the freedom movement.
Special thanks to Mr. Castellini and Georgia State University for allowing the Journal of Gospel Music to share the link below, where you can download the thesis for free as a PDF: http://scholarworks.gsu.edu/history_theses/76/.