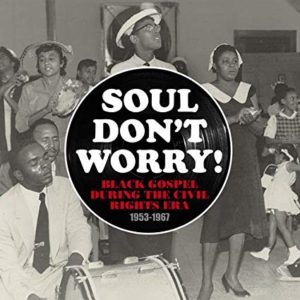 Various Artists
Soul Don't Worry! Black Gospel During the Civil Rights Era, 1953-1967
NarroWay Records (release date: September 21, 2018)
www.gospelfriend.com
By Bob Marovich
Soul Don't Worry is the most ambitious project to date for NarroWay / Gospel Friend, the Sweden-based gospel reissue operation headed by producer Per Notini.
In the past, Notini has focused on chronicling individual artists and labels, but this time he has taken on an entire era's worth of gospel music. And not just any era, but one of the most significant of the twentieth century: the fight for civil rights in America.
Some listeners might read the subtitle and assume that all 47 tracks that comprise this two-CD set are socially significant. The keyword in the subtitle is during. While all of the songs contained in this collection were recorded during the Civil Rights Era, not all specifically reference the Civil Rights Movement or specific events during that time.
Nevertheless, because it is part of the producer's intent to demonstrate the power of song in an era of protest, selections with overt political references do populate this project. They include the Friendly Four's "What is Freedom," a single snatched from obscurity by Baylor University professor Robert Darden's work chronicling gospel songs with explicit messages. Songs about the 1963 assassination of President Robert F. Kennedy are rendered by Little Junior & the Butler-Aires ("Jackie, Don't You Weep"), Evangelist Rosie Wallace ("Take Courage"), and the Trumpets of Joy of Cincinnati, Ohio ("The News that Shook the Nation").
"Shout School Children" by Brother Will Hairston of Detroit, arguably the most prolific black balladeer of the 1950s to spotlight social injustice, is about Southern pushback following the U.S. Supreme Court's 1954 mandate to integrate public schools. He even namechecks Autherine Lucy and her effort to gain admission to the University of Alabama.
A different kind of story song added to the collection is Scatman Crothers' somber reading of "The Death of Emmitt Till," credited to The Ramparts, and one of the first of its type to appear in the Civil Rights Era. Amidst the long struggle for civil rights, "Look How Far We Have Come" by the Hamptonaires invites listeners to reflect on African American progress since the days of slavery. NOTE: Guido van Rijn has also chronicled politically-explicit blues and gospel songs from this period in his Kennedy's Blues and President Johnson's Blues books and companion CDs.
But many of the tracks on Soul Don't Worry are songs about overcoming personal obstacles through hope and encouragement rather than overt calls to national action or commentary on political events. It is here where some of the most striking performances can be found. Church shaking solos by Inez Andrews ("Sing a Song") and Cassietta George (the remarkable "Oh, How I Love Jesus") share space with a fine doo-wop by Mahalia Jackson ("Consider Me") and the Sensational Jubilettes' rollicking "Jordan River."
Of course, no project that includes songs of social significance would be complete without at least one track by Dorothy Love Coates, one of gospel's most ardent freedom fighters. Soul Don't Worry features Dot Coates and the Gospel Harmonettes on "Human Bondage," a demonstrative call for an end to injustice of every sort.
Two wonderful surprises on the collection are a previously unknown early track by Chicago's Helen Robinson Youth Choir ("I'll Fight for the Right") and female "thrush" Mari Jones leading R&B pioneers Johnny Moore's Three Blazers on 1953's "In the Home."
Regardless of whether the songs are about getting to or getting through, Soul Don't Worry is chock-a-block with selections that radiate the unconquerable energy of hope. Hands clap, tambourines clatter, organs warble, guitars twang, and pianos plink with delight as one or more valiant voices lift the glory up. It is the sound of a community emboldened to fight back against oppression as if their lives depended on it…because they did.
Four of Five Stars
Picks: "Oh, How I Love Jesus," "In the Home"