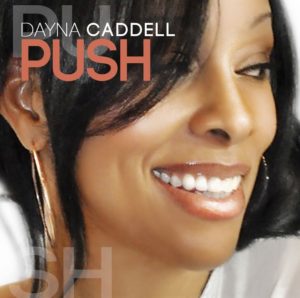 Dayna Caddell
Push
Forty Entertainment / eOne
www.daynacaddell.com
By Bob Marovich
Without knowing Dayna Caddell's story, a listener can pick up some truisms just from listening to her debut full-length album, Push.
First, the music has such a sunny, breezy disposition, it must have been crafted in Southern California. Indeed, Push, produced by the talented Warryn Campbell and Vann Clayton, was made and recorded in Los Angeles. The songs ooze with exuberance as they extol the greatness of God from a personal perspective: as friend ("You Got a Friend"), as true love ("Crazy," "My One"), and as waymaker ("What He's Done").
Second, the album's gumbo of jazz, R&B, soul, pop, rock, and gospel sensibilities suggests Caddell's music influences extend far afield. Also true. She has been exposed to all music genres since bobby socks. Her voice, evincing no small amount of training, ties the bite-sized songs together seamlessly as they transition into one another with PAJAM-style swagger.
Three, some of the lyrics suggest that the Grammy and Dove Award-nominated songwriter has faced down some daunting challenges. As we learn, Caddell is battling a form of Autoimmune Disease.
Among the album's most interesting selections: "Crazy," a Motown-esque throwback groove about being crazy in love with the Most High, contains enough ambiguity to keep the listener alert. The title track, clocking in at a mere 1:23, is a sobering reflection about the meaning of life: "If I never write another song, will the lights fade and go?" It feels unfinished, just as living feels unfinished.
Another album highlight is "So Grateful." Sung with Israel Houghton, Caddell offers a slightly different perspective on the Greatest Story Ever Told: Jesus was sentenced to die, having done no wrong, and instead of pleading not guilty, he accepted the absolute travesty of justice for a higher purpose.
The sleeper is the closer, "Out." Caddell's introspective but declarative message about how real personal change comes through Christ has an infectious pop song construction. If gospel radio playlists had more nuance, this would be a charter.
As debuts go, Push has accomplished its mission: to introduce Dayna Caddell, a gifted songwriter, as an equally talented vocalist.
Four of Five Stars
Picks: "So Grateful," "Out."
NOTE: Check JGM for an interview with Dayna Caddell to be posted next week.