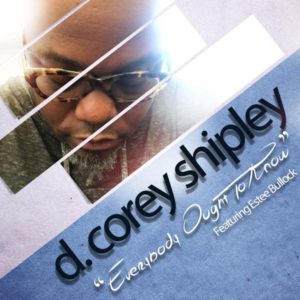 "Everybody Ought to Know"
D. Corey Shipley feat. Estee Bullock
DuCosh Music Group (release date: April 28, 2017)
https://store.cdbaby.com/cd/dcoreyshipley
By Bob Marovich
"Everybody Ought to Know" is a humble worship song that riffs on the various names for God but reminds us that no matter the name, God is the solid rock.
D. Corey Shipley and Estee Bullock (Hezekiah Walker and the Love Fellowship Crusade Choir) weave their confident lead vocals through the backing group's assertive harmonies. The musicians keep the head bobbing funk beat, a slow stomp, moving steadily ahead throughout.
D. Corey Shipley hails from Trenton, New Jersey, and is the music director of Grace Cathedral Fellowship Ministries under the leadership of Bishop Jerome S. Wilcox. His DuCosh Music Group released several albums by The Bishop's Choir. In April 2015, Shipley was appointed co-chair of the brand new Contemporary Adult Division of the Gospel Music Workshop of America.