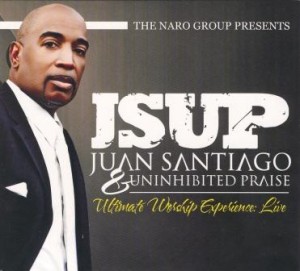 by Bob Marovich
Juan Santiago & Uninhibited Praise are turning their new record contract signing into a party.
The group, whose Ultimate Worship Experience: Live was reviewed in 2012 by the Journal of Gospel Music (see below), will be signing with First Choice Gospel Records of Nashville, Tennessee. John Smiley is the label's CEO.
Santiago told JGM that the first release with the new label will drop January 26, 2015.
The Record Contract Signing Press Party will take place at the Holiday Inn Express Ballroom, 615 East Main Street, in Hendersonville, Tennessee on Saturday, November 22, from 5:00 to 8:00 p.m. The public is invited; tickets are $10, prepaid only. For more information on the event, tickets, hotel availability, and media passes, call (347) 850-7464.
****
Juan Santiago & Uninhibited Praise
Ultimate Worship Experience: Live
The Naro Group (2011)
www.NAROGRP.com
By Bob Marovich
Live praise and worship albums remind me of the album-oriented prog rock of the 1970s, when groups filled an entire side of an album with an improvisational jam. The long-play format gave musicians the freedom to create a sonic texture, or establish a musical mood in which the listener could bathe his or her senses.
That is what Juan Santiago & Uninhibited Praise's sophomore project, Ultimate Worship Experience: Live does. Instead of offering a collection of songs, it depicts aurally the mood or tone of the worship service, complete with audience response. Here, instead of bathing, listeners can baptize their senses in the service.
And there's so much mood to be had that it takes two CDs to capture it. The songs, which feel as if they could go on forever, are almost uniformly mellow, hypnotic and with major key melodies that blend one with the other. I say almost uniformly mellow, because "Healing Rain," with Will Rhodes as lead, picks up the tempo in its second half.
The lyrics are vertical praise-oriented, though Bishop Pamela D. Spence's exhortation on Disc Two reminds listeners of the human need for worship and prayer.
A couple of high points of note are 1) a cameo appearance by traditional gospel star Sara Jordan Powell on "I Give Myself Away" and 2) Santiago's significant reworking of the spiritual, "Were You There." Proving himself to be a deft songwriter and arranger, Santiago combines the P&W mood with gospel choir coloration and several key modulations for a ten minute-plus piece that is transcendent. Any gospel choir of substance ought to consider this arrangement for the Lenten Season, though I would recommend a second or even a third lead because on this version, April Umstead had to carry the entire improvisation. I felt for her as she poured out every ounce of energy, even after she seemed to have nothing left to give.
A roster of lead singers articulate the songs on the project, with the finest voices being those of Sunilla Rogers on "My Hiding Place" and Elijah Gelzer on "I Worship You."
Just like the prog rock concept LPs of the 1970s, Ultimate Worship Experience: Live needs to be heard in its entirety. Even if you are not a fan of P&W, do check out "Were You There." It's a winner.
Three of Five Stars
Picks: "Were You There," "Healing Rain"