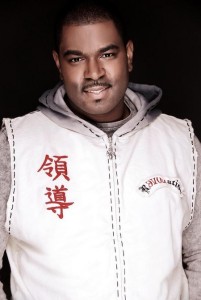 by Bob Marovich, The Black Gospel Blog
Growing up in Refreshing Spring Church of God in Christ just outside Washington, DC, gospel singer Kevin LeVar was surrounded by top gospel music talent.
HOB recording artists the Refreshingettes hailed from Refreshing Spring. The church's Minister of Music was none other than Evangelist Myrna Summers. Her 1970"God Gave Me a Song" with the Interdenominational Youth Choir of Maryland and DC earned the songstress a Grammy nomination. LeVar's mother and father sang with Summers, and Kevin called her "godmother."
Despite this, the self-proclaimed "mischievous kid" was not known for singing. Not, that is, until the day gospel great John P. Kee, working with the church's young people at a music conference, reflexively handed the seven year-old LeVar the lead microphone.
"[Kee] put the mike in my hand and had me to sing the song," LeVar remembered, "and I began to sing it. I sang it with such passion I just began to cry, and before it was over, the whole church was in tears."
LeVar's unplanned debut performance left him committed more than ever to the church's music ministry. Later, he became a substitute teacher in Maryland public schools, but his desire to sing gospel music professionally trumped classroom duties and LeVar finally stepped out on faith. He left his teaching post and began singing gospel throughout the Maryland and Washington, DC area.
"I thought I'd immediately find success in the music industry, but that didn't happen." In fact, LeVar entered a confusing nine-year "valley-like situation where I didn't know what the next step would be." During this time, the singer learned about true ministry, that it was "not just about standing on the stage singing to people, but it was actually about caring for people." This insight would leave an indelible imprint on his music ministry.
LeVar never lost his dream to sing gospel full-time, and after much persistence, local acceptance became national acceptance. Soon he was appearing on network cable television programs and performing at major events. His debut CD, Let's Come Together, recorded with the singing group One Sound, was released in September 2008 on April Washington-Essex's Habakkuk Music label. It landed at #22 on the Billboard Top Gospel Albums Chart. The album's current radio single is "A Heart that Forgives."
LeVar wrote the song after witnessing "some of my friends and mentors treated badly by life. I saw their hearts become calloused, and they didn't want to trust or love anymore. I didn't want to turn out that way or end up like that."
But just as he experienced with John P. Kee, LeVar became overwhelmed with emotion while recording "A Heart That Forgives." He recalled: "I thought I was over some of the things that inspired [the song], but when I got behind the mike to record it, it was like God showed me I had to let go of some more things. I was fighting back tears."
LeVar's tearful performance on "A Heart That Forgives" has won the singer countless new fans and inspired what LeVar is calling a "Forgiveness Campaign." Scheduled to launch on or before the first part of 2010, the Forgiveness Campaign seeks to encourage at least one million acts of forgiveness. It will do so through a web presence as well as personal appearances, speakers and dramatizations.
"So many of us have been hurt before and we're living our lives out of that hurt," explained LeVar. "It is important for us to let go of our past so we can embrace our future."
Meanwhile, LeVar will spend the rest of 2009 touring, singing and promoting Destiny Bridge, a concise but powerful book he wrote recently to "encourage people to step out and not be afraid to go after what God is showing them." Next year, LeVar plans to work on his sophomore CD, one that will focus on the importance of family and relationships.
For more information, go to http://www.kevinlevar.com/
TBGB NOTE: Magazines, e-zines, websites…would you like TBGB to provide exclusive content to your publication or site? Contact us to find out how (see bottom of page for contact info).