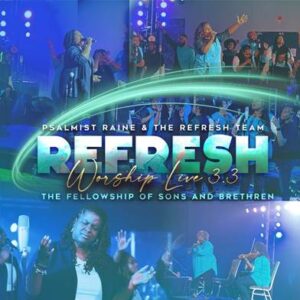 Psalmist Raine & the ReFresh Team
ReFresh Worship Live 3.3
ReFresh Institute (release date: March 25, 2022)
www.BeReFresh.com
By Robert M. Marovich
One thing is certain about Psalmist Raine's ReFresh Worship Live 3.3: it keeps on going and going and going.
The final disc of the three-volume ReFresh Worship Live 3: The Fellowship of Sons and Brethren by newly-ordained Apostle Larraine McCaa, known as Psalmist Raine, has a musical stream of consciousness quality. Indeed, fashioning an improvised extended worship piece was intentional: though some songs were rehearsed in advance, others were created on the spot by the singers and musicians during the July 10, 2020, live recording at Rock Run Convention Center in Joliet, Illinois, southwest of Chicago.
A break comes two-thirds of the way through the album. Prior to that, there's never a time when the singing and the music halt altogether. As such, the album is less a series of songs as it is one long unbroken thread of breathless praise with different shadings and verses.
Founder of the ReFresh Institute, Psalmist Raine came to the attention of the sacred music world in 2016 with her first Refresh Worship Live recording. This new three-CD collection continues her Praise & Worship music ministry.
The 3.3 opener, "As It is in Heaven," is a passionately-sung atmospheric P&W that borrows lines from The Lord's Prayer to declare His will be done. Repetitive verses, call-and-response between Raine and the ReFresh Team vocalists, clapping from the audience, and a chugging rhythm section keep the glory-bound train charging forward. Raine transitions seamlessly from "As It Is In Heaven" to "We Are Free" and "Be ReFresh," both assuming musical elements of its predecessor. In many respects, the album contemporizes an age-old practice in Pentecostal churches, largely gone now, of singing repetitive songs to ostinato melodies for minutes on end.
During the final twenty minutes, Raine introduces standalone songs. "We Are Yours," a seeking for more of God's presence in one's life, features gripping lead vocals by Alicia Je'Taun. Such an abundance of God's presence comes, she and the ReFresh Team sing, by saying yes to the Lord. Saying yes unleashes soul energy that, in turn, has the power to change the world. "Echo" flows lyrically and melodically from "Yours."
ReFresh Worship Live 3.3 pushes well beyond most P&W albums in its unrelenting drive, but in doing so, it simulates for the listener the electrically-charged spirit of a worship service.
Four of Five Stars
Pick: "We Are Yours"