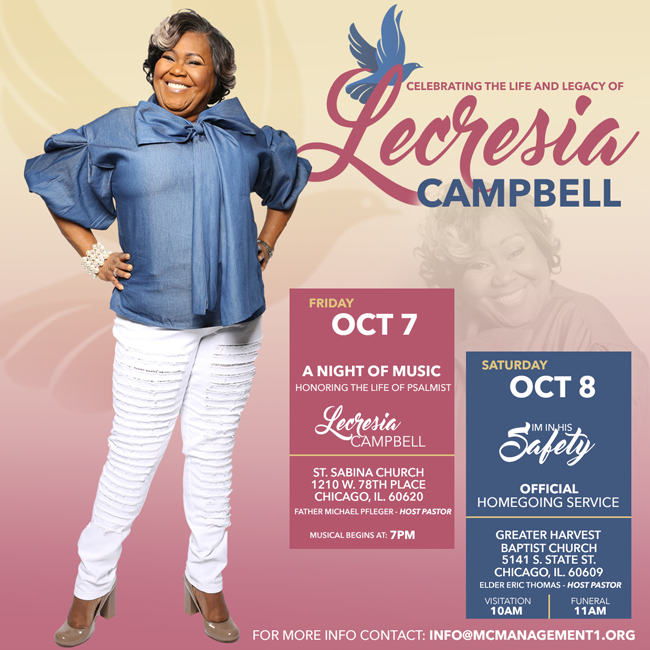 By Bob Marovich
JGM learned today that powerhouse gospel vocalist Lecresia Campbell passed away on September 29.
Born in Chicago, Campbell was the lead singer on Walt Whitman & the Soul Children of Chicago's 1990 gospel smash, "Perfect Praise (How Excellent)." She earned a bachelor's degree in Applied Voice at Tougaloo College and went on to teach elementary school for eight years. She also was background vocalist for Vanessa Bell Armstrong and sang alongside many others in the gospel industry.
In 2008, Campbell recorded a solo album, Even Me, which earned her a Stellar Award nomination for Best Female Vocalist – Traditional. Most recently, she could be heard on The Shalom Church City of Peace Mass Choir's album, Simply Amazing, singing "When I See the Blood;" and leading "Draw Me Nearer" on the Mississippi Mass Choir's 2014 release, Declaration of Dependence. No one who has heard Campbell sing will forget the skyrocketing high notes that she would pepper into her presentations.
Let us remember Psalmist Campbell with this 2007 video of her singing "Perfect Praise" with the Soul Children of Chicago.
Written by : Bob Marovich
Bob Marovich is a gospel music historian, author, and radio host. Founder of Journal of Gospel Music blog (formally The Black Gospel Blog) and producer of the Gospel Memories Radio Show.