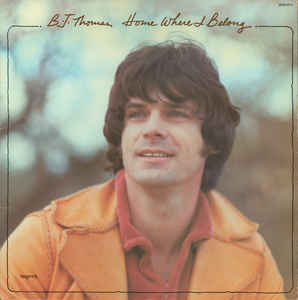 By Robert M. Marovich
Although he may be best known for recording chart-topping classics like "Raindrops Keep Fallin' On My Head," "Hooked on a Feeling," and "(Hey Won't You Play) Another Somebody Done Somebody Wrong Song," singer-songwriter and country-pop artist Billy Joe "B. J." Thomas was also a born-again Christian who sang and recorded religious songs.
Thomas, who passed away May 29, 2021, at age 78, released his first of several gospel albums, Home Where I Belong (Myrrh), in 1976. Despite a Grammy nomination for "Raindrops Keep Fallin' On My Head," the golden phonograph statuette eluded Thomas until 1977, when Home Where I Belong took Best Inspirational Performance, and also won a Dove Award. From there, Thomas earned four more Grammy Awards for his Christian albums. In this, Thomas had much in common with Al Green, whose Grammy fortune didn't begin until he started recording gospel albums.
For more information on B. J. Thomas and his career, read this New York Times obituary: https://www.nytimes.com/2021/05/30/obituaries/bj-thomas-dead.html