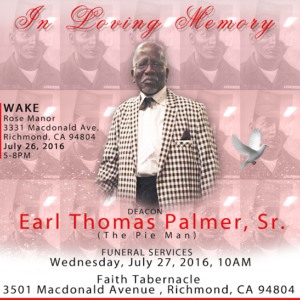 From Pamela Palmer-Hickman, the eldest daughter of Deacon Earl Thomas Palmer Sr.:
With great sadness, the family of the late Deacon Earl Thomas Palmer Sr., aka Mr. "Gospel is My Music," announces his passing on Saturday July 16, 2016.
Some of the people Deacon Palmer worked with while in Chicago were Billy Carson on WXFM, Dr. Charles G. Hayes, Rev. Milton Brunson, Pastor Maceo Woods, Jackie Morris on WYCA, and a host of others.
Final arrangements have been entrusted to Stewart's Rose Manor.
Messages of condolence may be sent to the family in care of Pamela Palmer Hickman at:
Stewart's Rose Manor
3331 Macdonald Avenue, Richmond, CA 94804
The telephone number is 510-235-9143.
JGM extends its sincerest sympathy to the family, friends, and many fans of this longtime and fondly remembered radio angel.