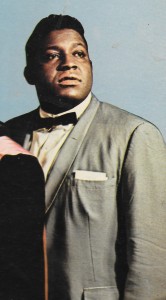 By Bob Marovich
JGM heard from Anthony Heilbut ("The Gospel Sound," "The Fan Who Knew Too Much") and gospel singers Ron Barrett and Darryl Reed that gospel songwriter and pianist Eddie Williams passed away.
Williams, an accompanist for the Caravans, authored the famous Chicago group's big hit, "Lord Keep Me Day by Day." Later, Williams organized the Crusaders, a New York-based group that recorded for Savoy Records.
Heilbut reported that Williams was raised in Robbins, Illinois, also the home of singer Delores Washington, whom he introduced to the Caravans. Williams' piano style, Heilbut added, was "rollicking but subtler…and less heavy-handed" than James Cleveland, an earlier Caravans accompanist.
More information will be posted as it is forthcoming.
Written by : Bob Marovich
Bob Marovich is a gospel music historian, author, and radio host. Founder of Journal of Gospel Music blog (formally The Black Gospel Blog) and producer of the Gospel Memories Radio Show.