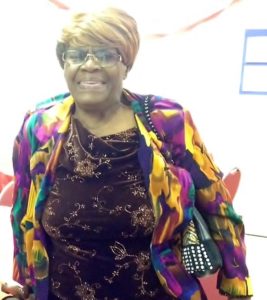 By Bob Marovich
The Journal of Gospel Music is saddened to report that Sis. Gertrude Deadwyler Hicks passed away March 1, 2019. The Rev. Dr. Stefanie Minatee informed JGM of her transition.
Gertrude Hicks was a member of the Gospel Chordettes / Lawrence Roberts Singers and a founding member of the Angelic Choir of the First Baptist Church of Nutley, New Jersey.
She was born March 9, 1938, to Georgiana and Arvie Deadwyler in Brooklyn, New York. Her parents left Brooklyn to establish the Mount Olive Pentecostal Faith Church in Jersey City, New Jersey. Gertrude learned to play classical piano under the tutelage of a Miss Thompson. Once she entered elementary school, Gertrude not only performed for school programs but added singing to her musical toolkit.
She joined Zion Hill Baptist Church in Newark and became a member of the Young People's Choir. It was there she met Lawrence Roberts, who would ultimately serve as the choir's accompanist and director. When he decided to form his own gospel group, the Gospel Chordettes, Roberts selected Young People's Choir members Hicks, Bernadine Greene Hankerson, Delores "Amy" Best, Marjorie Raines, and Freda Roberts. The group made national noise on gospel and R&B radio with its 1958 Savoy single, "I Can't Believe It," dubbed the "Sputnik Song" for its reference to the Russian space satellite.
Hicks was also a member of Roberts' Voices of Faith Choir, a community choir that became the official choir of First Baptist Church of Nutley, New Jersey, when Roberts was named its pastor in 1959. The Voices of Faith was renamed the Angelic Choir in 1961 and recorded several albums on its own and with James Cleveland, the most significant being the 1963 Savoy release, Peace Be Still. It was the biggest-selling gospel album until 1972, when it was surpassed by Aretha Franklin's two-disc Amazing Grace.
Hicks was an accompanist for the Angelic Choir at First Baptist and on the road, and also accompanied the Little Angels Choir, First Baptist's youth choir, which made an album for John Daniels' Jersey City-based Glori Records. At one time, she was New Jersey chapter rep for the Gospel Music Workshop of America.
As of October 2017, when I last spoke with Gertrude, she was piano accompanist for the Zion Hill Baptist Church in Newark.
"I don't try to sing though," she told me. "Only if the spirit of the Lord comes in will I sing. And I can't get up and get my shout in. All I can do is tap my feet." She added with a sly grin: "But I'm still bringin' it."
Dennis Bines has provided the following homegoing service details:
Viewing:
Friday, March 7, 6:00 p.m. to 9:00 p.m.
Church of God in Christ
405 – 7 Communipaw Avenue
Jersey City, NJ 07304
Funeral:
Saturday, March 8, 10:00 a.m. to 12:00 noon
Philemon Baptist Church
246 Shepherd Avenue
Newark, NJ 07112
I personally extend my sympathies to Gertrude's family and friends. She was a sprightly lady, full of vigor and generous with her time and memories. I will never forget her. She is now "bringin' it" in the true Angelic Choir in Heaven.