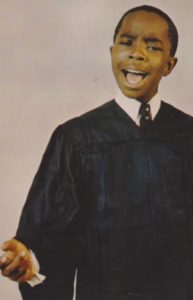 By Robert M. Marovich
A. Jeffrey LaValley informed JGM of the passing of his friend, gospel singer and pastor Steve Hawkins.
Born in Waco, Texas, on Valentine's Day, 1953 ("That's why I'm such a sweetheart!" he chuckled during our 2014 interview), Hawkins was raised in Cleveland, Ohio, where his father was pastor of the Jerusalem Church of God in Christ. As a youngster, Hawkins learned the finer points of singing from his mother. His uncle and aunt, Dorothy and Lawrence Abrams, took him on the road to open for the Original Five Blind Boys, in which Lawrence was a member and Dorothy helped manage the road details.
Hawkins met Phil and Leonard Chess when the Blind Boys signed with Checker Records. Because Dorothy had talked her nephew up to the Chess brothers, they were eager to hear him sing. Hawkins said he sang "How Great Thou Art" for the two record men and the next thing, "we were flying back [to Chicago], my father and I, to record."
"Stevie" Hawkins' first album came out in 1964, when he was just eleven. He recalled that among the musicians who supported him on his recordings were drummer Maurice White (Earth Wind & Fire) and organist Leonard Caston. The studio background singers included some of the Jessy Dixon Singers as well as a young Minnie Riperton.
The 1964 album, The Spiritual Soul of a Child, produced the radio hit, "Open Our Eyes," Leon Lumpkins' plea for peace and amity. Hawkins toured on the strength of the single. Along the way, he met the Reverend Dr. Martin Luther King Jr. and fellow child phenom Stevie Wonder. Notwithstanding his popularity, Hawkins said his parents insisted he keep up with his studies at all times.
After Hawkins' second album, 1967's Two Wings, the family moved to San Francisco. By this point, his father had gotten ill and wasn't as able to travel. Further, the teenager's interests began to widen beyond professional singing. In 1967, he enrolled in Saints Junior College and Academy, a Lexington, Mississippi, school operated by the Church of God in Christ. He was put over the school's sanctuary choir, which travelled at times to raise money for the school.
Hawkins entered the ministry in the early 1980s and served as pastor of El Shaddai Ministries in Flint, Michigan, where his jurisdictional prelate was Bishop Roger L. Jones Sr., another product of Saints Academy. Hawkins' love of singing never wavered, however, and he recorded from time to time, particularly with A. Jeffrey LaValley, who he called "one of my best friends." Hawkins also cameoed on a Sound of Gospel album recorded by the Harris Memorial COGIC Choir and directed and produced by Rudolph Stanfield Jr.
Was Pastor Steve Hawkins ever approached about singing rock 'n' roll? There were plenty of opportunities, he said. Leonard Chess suggested the youngster consider going pop. In San Francisco, Hawkins attended school with members of Tower of Power. Sylvester "Sly Stone" Stewart was a distant relative. But he steadfastly refused to leave gospel. "I was born to do what I was doing," he said.
JGM expresses its condolences to the family, friends, congregants, and many fans of Pastor Steve Hawkins. Take your rest, good and gentle servant.