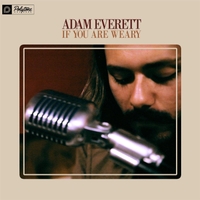 Adam Everett
If You Are Weary
Polytone Records (release date: May 11, 2017)
https://store.cdbaby.com/cd/adameverett
By Bob Marovich
If John Hiatt made a gospel album, it would sound like Adam Everett's If You Are Weary.
This eight-track collection of hymns and newly-composed songs is the product of a new breed of young alt-gospel artists such as the Eagle Rock Gospel Singers (who opened for Everett's album release party), Liz Vice, and Eli "The Paperboy" Reed. Together, they are taking to church the Americana soul-country-rock melange rekindled by the Avett Brothers, Fleet Foxes, and Neko Case (who has covered some gospel on her albums).
The most resplendent moment on Everett's If You Are Weary is "Jesus (What Grace Have I Found in Thee)." Set in the rocking chair rhythm characteristic of traditional black gospel, the song builds in intensity as blue notes and organ speckle its countrified foundation.
The uptempo "There is Power" has a camp meeting singalong feel, and "He is Risen (Undertaker Blues)" tells the tale of the Passion in a bluesy way but all the while cheering Jesus for not letting any grave hold his body down. Infused by lovely harmonies from the background vocalists, "Thank You Lord" is a paean of gratitude for favor in a time of trouble that seems never-ending.  Throughout, Everett's cadre of musicians demonstrate jam session cool.
The familiar songs on the album are the Gaithers' "Because He Lives" and the 1907 hymn made popular by the Carter Family, "Will the Circle Be Unbroken." Everett's take on each, however, is quite different from the original. In his hands, they become even more deeply personal and introspective.
If You Are Weary is a fine debut for Adam Everett and, true to its title, aims to cure what ails you.
Four of Five Stars
Pick: "Jesus (What Grace Have I Found in Thee)"
Written by : Bob Marovich
Bob Marovich is a gospel music historian, author, and radio host. Founder of Journal of Gospel Music blog (formally The Black Gospel Blog) and producer of the Gospel Memories Radio Show.