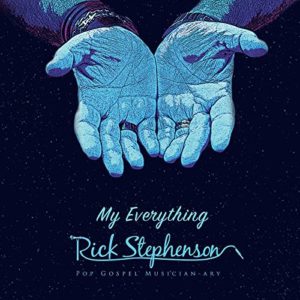 Rick Stephenson
My Everything
N-Siteful Music (release date: August 1, 2016)
www.rickstephensonmusic.com
By Bob Marovich
Christian singer-songwriter Rick Stephenson is no stranger to the recording studio. My Everything represents his latest album in at least four full-length CDs in his career.
The new album contains ten radio-sized and pleasantly rendered pieces by Stephenson, a Johnson Creek, Wisconsin-based artist whose songwriting technique suggests he is an astute student of the pop song.
Indeed, as a youth, Stephenson spent a great deal of time listening to Top 40 radio, and it shows.  The self-professed "Pop Gospel Musician-ary" links lyrics of faith and gratitude for God's goodness to catchy melodies, earworm-y hooks in the choruses, and effective bridges, all to a light rock-pop backdrop. Not surprisingly, he has garnered honors from songwriting competitions such as the Song Door International Competition, Great Lakes Songwriting Contest, and Write About Jesus.
Of all the songs on the new album, "King of the Broken" best demonstrates Stephenson's songwriting craft. To a brisk and airy arrangement, the song hails Jesus as the ruler not of the rich and powerful but of the hurting and flawed. It begs for a key change toward the conclusion, but is quite memorable, nevertheless. Another breezy track is "Grace is Sufficient," which declares that in times of distress, you don't need fixing, you need grace.
"Never Had It So Good" has a contemporary country flavor, accentuated by trebly electric guitar riffs and story lyrics, though it could have used one more story verse to hammer home the message. "All I Crave" is a quiet, introspective prayer for a utopian world, set to classical guitar played beautifully by Dave Cleveland.  The title track hearkens back to the adage that there is no testimony without a test, as it asks questions such as "If I'd never been through the dark of night / Would I appreciate the light?
Sometimes songwriters are not capable singers and vice versa, but on My Everything, Rick Stephenson proves he is the ideal vehicle for delivering his buoyant songs of faith.
Three of Five Stars
Picks: "King of the Broken," "Never Had It So Good"
Written by : Bob Marovich
Bob Marovich is a gospel music historian, author, and radio host. Founder of Journal of Gospel Music blog (formally The Black Gospel Blog) and producer of the Gospel Memories Radio Show.