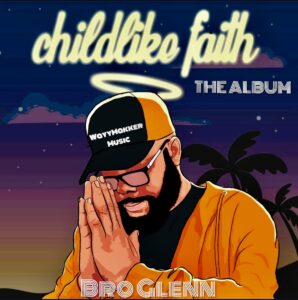 Bro. Glenn
Childlike Faith
WayMakker Music (release date: December 22, 2021)
By Robert M. Marovich
"Will you be ready when Jesus comes?" asks Christian hip hop artist Bro. Michael Glenn, aka Bro. Glenn, at the outset of his album Childlike Faith.
I don't know about you, but from the sounds of it, Glenn is ready. Although there's neither a melodic nor specific lyrical theme that ties Childlike Faith together, there are plenty of recommendations here on how to live the kind of life that will prepare you successfully for the final days.
The Christian hip hop artist mostly sings but also raps a little on eighteen bite-sized selections with minimalist, urgent beats led by chimey keys. His is a relaxed, nasally, nonchalant style reminiscent of the late Bill Withers. Glenn's best vocal work shows up on "Go Ye" and "Humble Me," where he has space to really let go. The album's top track is "Breakthrough," a buoyant declaration that one's blessings come through participation in praise and worship, which includes clapping, steppin', and reppin' for Jesus.
Whether sung or rapped, the rhymes link to Biblical passages, church aphorisms, and simple words of worship. "Trouble Don't Last Always" opens with a reference to Job 14:1 and concludes that God doesn't let trouble stick around. A pledge to live holy in preparation for the end days, "See What the End Gone Be" borrows for its title the classic line, "I believe I'll run on and see what the end's gonna be." The title track and current single reflects on the grace of innocent faith and includes an in-your-face rap interlude by Pre-cha.
The NBOC Praise Team tries hard on its sole feature, "He'll Make a Way," but comes off a bit pitchy. Meanwhile, the tightest and most percussive rhymes come from the team of Slim Breeze, Sky, and C.O.G. the King on the upward-focused "Heaven" and "Go Ye." Each brings a different but complementary style to the selections.
Childlike Faith ends, appropriately, with "Altar Call." It's Bro. Glenn's final invocation to turn away from evil and "give Jesus a try." He even provides a prayer for salvation. "What are you waiting for?" he asks. What, indeed?
Three of Five Stars
Picks: "Breakthrough," "Humble Me"
Written by : Bob Marovich
Bob Marovich is a gospel music historian, author, and radio host. Founder of Journal of Gospel Music blog (formally The Black Gospel Blog) and producer of the Gospel Memories Radio Show.