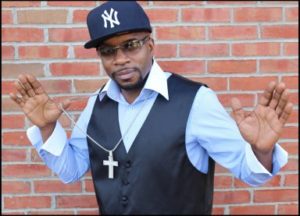 "Christian Walk"
Darren Deac
From the Quality of Life Music album Christian Walk
www.cdbaby.com/cd/darrendeac
Just because we walk in the path of righteousness doesn't mean we can't throw a little shape to our step.
That's what Christian Hip Hop artist "Darren Deac" Edward demonstrated to the audience at the Rhythm of Gospel Awards main event last Saturday evening in Memphis, Tennessee. The "Christian Walk" is a modified two-step, a sanctified shuffle. The song has an infectious hook and an explicit message that expounds the life-giving power of service and prayer.
From Newark, New Jersey, Edward started his career in secular rap as MC Darren D but became increasingly uncomfortable rapping on subjects that didn't reflect his life. Darren received confirmation of his decision to switch his rhymes from secular to sacred when, in 2006, he made the finals of McDonald's Gospelfest, performing at New York's Madison Square Garden.
Darren Deac walked home that Saturday night with the Rhythm of Gospel Award for Urban Contemporary/Rhythm & Praise CD of the Year for the album Christian Walk.