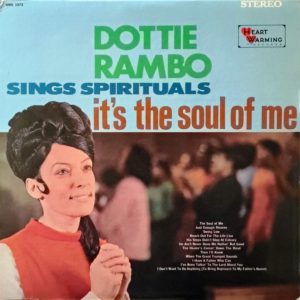 Dottie Rambo
It's the Soul of Me (remastered)
Original release: Heart Warming Records 1968
Provident Distribution/Sony Music (release date: July 30, 2021)
By Robert M. Marovich
In the year the Recording Academy introduced the Grammy Award category for Best Soul Gospel Performance, the nominees were the Swan Silvertones, the Staple Singers, the Reverend James Cleveland and the Angelic Choir, the Davis Sisters, Willa Dorsey, and singer-songwriter and guitarist Dottie Rambo.
Rambo, the sole Caucasian in the category, took home the statuette for her Heart Warming Records solo album It's the Soul of Me.
Although the other nominees would have been justified in viewing the win as another kick in the gut from a predominantly white-dominated music industry, Rambo's project nevertheless broke new ground as a creative partnership between southern gospel and black gospel. Her 1968 album, which drew controversy for bridging the racial divide in an unreconstructed America, was anchored in her family's commitment to ministering to churches regardless of race. Indeed, It's the Soul of Me, Rambo's third solo album, was inspired by an integrated and inter-denominational revival in Alabama in 1967 at which her family group, the Singing Rambos, performed.
Provident Distribution / Sony Music has remastered It's the Soul of Me from the original tapes and it is available in digital format for the first time in more than a decade.
Rambo's strident delivery, wizened beyond her thirty-four years, evokes Sallie Martin—not the prettiest pipe in the organ but possessing palpable earnestness and conviction. She does her finest singing on the title track and particularly on the poignant sustained notes in her upper register. Her most soulful singing comes across on "Then I'll Know" and "I've Been Talking to the Lord about You."
In many ways, it's the soul of the musicians that gives the album its swagger. "Just Enough Heaven," for example, combines relaxed Nashville Sound session work (the album was recorded in RCA Studio B, the birthplace of the Nashville Sound) with background vocals by the Pentecostal Tabernacle Church of God In Christ Choir. The church's pastor, soon-to-be gospel star Dr. Jonathan Greer, swings on organ, with another organ virtuoso, Novella Williams, handling the vocal arrangements.
Rambo renders the folk spiritual "Swing Low" to a lightly-swinging accompaniment and with call-and-response singing courtesy of the choir. Evoking percussive jubilee quartet singing, "The Healer's Coming Down the Road" chronicles the well-known story of the garment-touching woman. The southern gospel song "Reach out for the Lifeline" sounds like something Elvis would have covered in the late 1960s and "His Steps Didn't Stop at Calvary" in the mid-1970s.
Perhaps most affectingly, Rambo covers "I Have a Father Who Can," a James Hendrix composition (not that Hendrix) popularized by Nashville-based Pastor Morgan Babb.
It's the Soul of Me is soulful southern gospel with a pinch of 1968-era groovy.
Four of Five Stars
Picks: "It's the Soul of Me," I Have a Father Who Can"