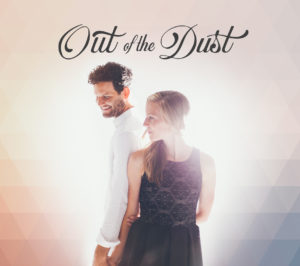 Out of the Dust
(s/t)
Discovery House Music (release date: March 7, 2017)
www.outofthedustmusic.com
By Bob Marovich
Some of the best songs are birthed out of suffering.
For Out of the Dust's Chris and Stephanie Teague, the circumstances of their separation, divorce, and remarriage, and their reliance on Jesus for healing, provided the raw material for the eleven songs on their self-titled debut LP.
Despite the pain behind the Teague's story, the album's music buzzes with the gratitude of having made it through.  It offers pleasant pop melodies, bright production, and duet singing that evokes the informality of coffee house troubadours.
The album also brims with lyrics that use opposing metaphors to teach important lessons. "You use brokenness to make us whole," they sing on "Make Us Whole;" and during "Safe to Shore," Stephanie sings, "when fears shout, I'll be the whisper." The thrumming "Radicals" offers a difficult truth: sometimes you must lose your life to find it.
And that is what happened when the Teague's marriage fell apart. What they learned along the journey to renewal is what fuels their songs.
Stephanie's liquid, whispery vocals are reminiscent of Ingrid Michaelson, especially on the single, "All That I'm Made For," which sums up the redemption story that governs the album. Together, the duo evoke the emotional honesty of The Swell Season's Glen Hansard and Marketa Irglova.
The album's most remarkable selection, and one of the best sacred songs I've heard thus far this year, is "How Deep the Father's Love for Us." If I didn't know that Stuart Townend wrote the song, I would have assumed the Teagues plucked it out of the Southern Harmony. It is a beautiful hymn with an ancient soul; like an old folk song, you could almost sing it to a droned note on the pipes. That Townend is an Englishman may account for his familiarity with traditional folk song, as in Child ballads and such. Really, it belongs in a hymnal, and additional verses would make it even stronger.
Out of the Dust is a promising debut that leaves one hoping for more in the future.
Five of Five Stars
Picks: "All That I'm Made For," "How Deep the Father's Love for Us."