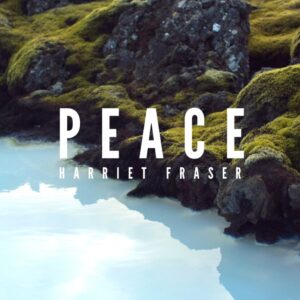 Harriet Fraser
Peace
Independent (release date: October 8, 2021)
www.harrietfraser.com
By Robert M. Marovich
On her brief but touchingly lovely debut album Peace, soprano Harriet Frasier harmonizes with herself, two-parts unaccompanied, a touch of echo evoking the sense of being recorded in a stone-walled cathedral instead of the California studios that served as the true sites of production.
Shawn Kirchner's ambient arrangements of a dozen folk songs, classical pieces, and sacred fare are designed to lull the listener into a state of relaxation, calmness, peacefulness. Delivered with Fraser's soothing voice(s), the album delivers on its premise.
Of the sacred selections, listeners will enjoy the mantra-like "Peace Pilgrim's Prayer," based on Psalm 46:10 and featuring Fraser chanting "Be Still." Also included is the nineteenth-century gospel song, "Angel Band," famously performed as a bluegrass piece in 1955 by the Stanley Brothers. The hymn "Abide With Me" is another nineteenth-century selection that receives Fraser's ethereal treatment. "All Through the Night" is a Welsh tune called "Ar Hyd y Nos" that is part lullaby, part hymn, part ode to the solitude of a night's slumber.
A former family doctor in the UK, Fraser moved to California to pursue music and currently sings with the Master Chorale of Los Angeles. It was here she met Kirchner. The Grammy-nominated Dana Nielsen handles the album's  mixing and mastering.
Enthusiasts of liturgical church music as well as fans of a cappella singing will find Peace particularly enjoyable. No matter, listening to Peace can help lower your blood pressure and calm your nerves – and who can't use that from time to time? Dr. Fraser clearly knows a thing or two about the healing power of music.
Four of Five Stars
Pick: "Peace Pilgrim's Prayer"
Written by : Bob Marovich
Bob Marovich is a gospel music historian, author, and radio host. Founder of Journal of Gospel Music blog (formally The Black Gospel Blog) and producer of the Gospel Memories Radio Show.