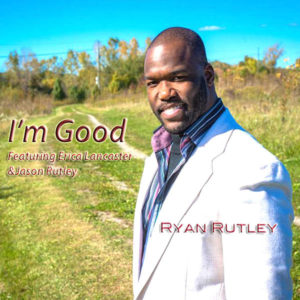 "I'm Good"
Ryan Rutley feat. Erica Lancaster and Jason Rutley
Psalms Group Studios (released April 8, 2016)
www.cdbaby.com/cd/ryanrutley2
When asked how they are doing, Ryan Rutley, Erica Lancaster, and Jason Rutley update the sentiment of the late Reverend Paul Jones' "I Won't Complain" with a simple "I'm Good."
Of course, "I'm Good" can be used to mask inner struggle and hurt, but the trio uses the response as an affirmation instead of an evasion. "I should lose my control, but I won't," they sing.
The single's chirpy pop sound, vivacious lead trading between the trio, and insistent electronic rhythm distinguish it from the inspirational jazz that predominates on Rutley's 2014 album Reflections.
Born in Pontiac, Michigan, Ryan Rutley is a Wayne State University alumnus who performed with the school's Gospel Choir and a family gospel group called Connection. He assisted his minister father with the Berea Family Tabernacle of Faith Church for many years and is now a member of Christian Tabernacle Church, where the pastor is Dr. James L. Morman.