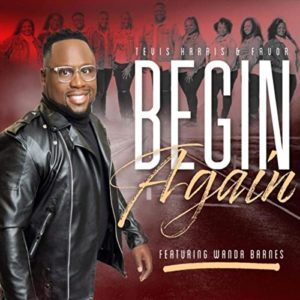 "Begin Again"
Tevis Harris & faVor
(release date: January 11, 2021)
www.tevisharris.com
By Robert M. Marovich
"Begin Again" by Dr. Tevis Harris and faVor is a lovely song with a message that is inspirational but also steeped in Scripture.
The melody and arrangement have an easy, heart-tugging 1980s Peabo Bryson vibe that fits perfectly with the lyrical declarations of starting over. And on top of that, the group declares, God is calling you to begin again.
Midway through, Harris is joined by fellow Rocky Mount, North Carolina, native Wanda Barnes of the famous Barnes Family. faVor, a group of Harris's family and friends, support the two lead vocalists as they reinforce the message with conviction. The spiritual awakening opens like a rose. Enchanting.
The single is from Harris's sophomore album, Keep Winning, released June 5 (another Barnes family member, Luther Barnes, features on the album). Besides being a worship leader and choir director, Harris is an accomplished educational administrator and presenter, and a proud member of Kappa Alpha Psi Fraternity, Inc.
Written by : Bob Marovich
Bob Marovich is a gospel music historian, author, and radio host. Founder of Journal of Gospel Music blog (formally The Black Gospel Blog) and producer of the Gospel Memories Radio Show.