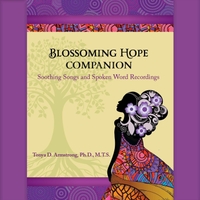 Dr. Tonya D. Armstrong
Blossoming Hope Companion
Overflowing Hope Media (2017)
www.drtonyaarmstrong.com
By Bob Marovich
For many, confronting personal behavioral health issues constitutes an admission of weakness and failure. Some expect their faith communities to handle all of their healing. While faith communities can and do play an important role in wellness, some issues cannot be combatted without the help of psychiatric medicine.
No one knows this better than Dr. Tonya Armstrong. The licensed psychologist, minister, seminary administrator, and founder of The Armstrong Center for Hope, puts her scientific and sacred training in the service of her sisters in Blossoming Hope: The Black Christian Woman's Guide to Mental Health and Wellness.
The book's accompanying CD, titled Blossoming Hope Companion, is intended to guide African American females to a more balanced state of mental and spiritual health, both of which contribute to physical wellness.
Armstrong explains at the outset that the reader can choose to listen to each track according to the book's prompts or all at once. Regardless, the selections alternate between inspirational and empowering messages from Armstrong (e.g., "Affirmations for Sisters"), simple meditation exercises, and songs—all designed to blend mental health and spiritual health. For example, Armstrong uses "The Jesus Prayer" ("Lord, have mercy on me") to guide a breathing and meditation exercise.
Interestingly, the finest performance on the album is not a direct response to meditation but a choral version of the woman-centric spiritual "Oh Mary Oh Martha," also known as "Rockin' Jerusalem."
The album closes with a straightforward but nevertheless lovely rendition of the empowering anthem, "Black Butterfly," the melodious Barry Mann and Cynthia Weil song done famously by Deniece Williams in 1984. Concluding with this song suggests that if you started the Blossoming Hope journey as a caterpillar, you will emerge from the program as from a cocoon into a chrysalis.
Three of Five Stars
Picks: "Oh Mary, Oh Martha," "Black Butterfly"
Written by : Bob Marovich
Bob Marovich is a gospel music historian, author, and radio host. Founder of Journal of Gospel Music blog (formally The Black Gospel Blog) and producer of the Gospel Memories Radio Show.