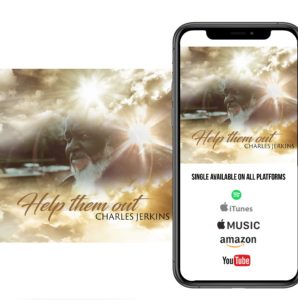 "Help Them Out"
Charles Jerkins
www.charlesjerkinsmusic.com
By Robert M. Marovich
Charles Jerkins' "Help Them Out" is an R&B-infused ballad about extending compassion to the ones who need it most.
But the aid goes beyond basic human needs, Charles sings, because extending a helping hand or words of encouragement—"showing the love of Jesus"—can also lead to that person's soul salvation. By the song's vamp, Charles abandons balladeering for pulpiteering, extemporizing in a blue tonality as the BGVs coo "help them out" behind him.
Charles is uncle to producers and songwriters Rodney "Darkchild" Jerkins and "Uncle Freddie" Jerkins III. In fact, Freddie co-wrote "Help Them Out" with Charles. In addition to singing, Charles has formed OnStage Gospel, a multi-production platform for video and music housed on www.whomagtv.com.