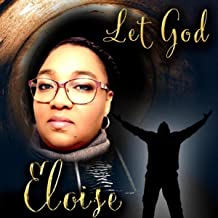 "Let God"
Eloise
https://www.facebook.com/eloise.skief
By Robert M. Marovich
With "Let God," Tyler, Texas, gospel singer Eloise Skief, who goes by Eloise, delivers a lovely meditation on the familiar "let go and let God" trope.
The sparse piano accompaniment allows Eloise to improvise vocally, though she doesn't go overboard. In fact, it's her controlled ornamentation that sells the song. She takes a repetitive melody line and endows it with sufficient variety to keep the listener engaged. Though she plays it cool here, there's an underlying energy that suggests she can offer up an explosion of musicality if a song calls for it.
Eloise attends Now Faith Ministries in Troup, Texas, led by Pastors Marva and Billy Hawkins.