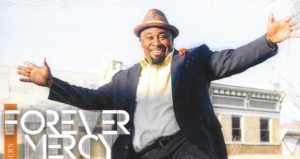 By Bob Marovich
Relaxing on the tour bus after a concert, Lamont Sanders could still hear the shouts of "Encore!" from tens of thousands of audience members echoing in his mind.
The Bible says your gift will make room for you, Sanders reflected, and it had. He had signed with Kenny "Babyface" Edmonds and Andre Harrell. His R&B group was performing to adoring fans, just like tonight. It had recorded an album that would soon be released. Life was good.
Then he felt a presence in the seat next to him. A voice spoke: "That feels good, huh? They're screaming your name. But nobody's calling the name of Jesus."
"That was my rude awakening," Sanders told the Journal of Gospel Music. "God was trying to get my attention, and He got it. I decided not to go back to R&B, and I never went back."
Now an independent gospel artist with a single, "Forever Mercy," impacting radio since last October, Lamont Sanders is answering the call.
The singer grew up in Willingboro, New Jersey, about 20 minutes from Philadelphia. To say his was a singing family is an understatement. Thirty-five of them formed a choir called the Sanders Family that sang at local programs and toured nationally. Within the choir were several independent soloists and groups, including the Gospel Specials, which included his mother and some aunts and uncles.
Sanders laughed: "Being a child growing up in that, I had no choice! It was like, 'Get up there and sing, now!' People would be at my grandmother's house around 10 o' clock at night around the holidays, because they knew there would be entertainment. They would bring their families and squeeze in my grandmother's little house."
Sanders attended El Bethel Baptist Church in nearby Trenton, singing in the church choir and playing drums. He absorbed the songs of the church and enjoyed the work of Pastor John P. Kee, but he did not limit himself to gospel music. He also listened to Stevie Wonder, the O'Jays, and even country music. "I grew up with different genres of music," he said. "I grew up loving Faith Hill."
He met Kool and the Gang through friends of his who were part of the vocal group Boyz II Men. "[Robert "Kool" Bell]'s son was starting a group," Sanders said. "I never thought about R&B, never thought about music as a career, until this opportunity afforded itself."
Sanders signed with Kenny "Babyface" Edmonds and Andre Harrell around 2005 as part of an R&B ensemble. He wrote a lot of songs for his group's debut album, but it was never released. "Robin Thicke came out before us," he said. "We were the next artist to come out [but] the label kind of folded."
It was while on tour with his group that Sanders encountered the presence and voice of God on the bus. The first thing he did was call his family. He told them he was not going back "out there." He was going to do gospel music and would they accompany him?
"They supported me and they said they'd sing with me, but I think they were still skeptical," Sanders recounted. "Soon thereafter, I was offered another R&B record deal for over $100,000. I didn't do it. That's when they realized I was serious."
Entering gospel music in 2008, Sanders has since appeared on BET's Bobby Jones Gospel and co-wrote his first single, "Forever Mercy," with GRAMMY-nominated producer Dana T. Sorey.
He said: "['Forever Mercy'] is about not being down on yourself, on what you may have done in your past, or even where you are right now. God will meet you where you are and his mercy is sufficient. He will love you in spite of the situation."
Released in 2015, the single has been picking up momentum on radio since October 2016. "A good song will make room for itself," Sanders said, "but if nobody knows about it…." So he has stepped up his game, most recently appearing at showcases in Las Vegas around the 2017 Stellar Awards. "We wanted people to know that I am Lamont Sanders, this is the single, and he's here to stay."
His style combines his many musical influences. "I'm like John P. Kee and Luther Vandross put together!" he laughed.
A second single is slated for release at the start of summer 2017, and Sanders' album has an anticipated release date of early 2018. In addition to Sorey, other top-shelf producers involved on the album include another GRAMMY nominee, Johnnie "Smurf" Smith. The GRAMMY Award-winning Adam Blackstone, like Sanders a product of Trenton's El Bethel Baptist Church, is also producing. Sanders is also meeting with Gerald Haddon.
"When I would do R&B, the money may have been there, but the conviction was wrong," Lamont Sanders said. "On the reverse side, there's no money in gospel, but it definitely is fulfilling to your spirit. At the end of the day, when you lay down, only what you do for Christ will last."
For more information, visit www.lamontsanders.com.
Written by : Bob Marovich
Bob Marovich is a gospel music historian, author, and radio host. Founder of Journal of Gospel Music blog (formally The Black Gospel Blog) and producer of the Gospel Memories Radio Show.