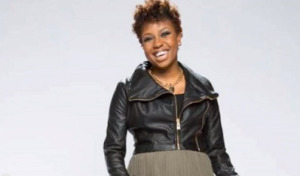 Atlanta, GA – Marquis Boone Enterprises (MBE) and Tyscot Music & Entertainment have formed a partnership to release MBE projects.
The first one will be a live set by worship artist Casey J (pictured) who is currently #6 on Billboard's Gospel Airplay chart.
"Dreams and visions do come true," says the singing educator. "Recently my dream of being on the Bobby Jones Gospel TV show was realized and today I wake up in the Top Ten on a Billboard chart. I know it has nothing to do with me as an individual. God is just creating another platform for Him to receive glory.  It's just happening through me and I am so thankful."
The success of Casey J's inaugural radio hit, "Fill Me Up," led to the exciting new alliance between MBE and Tyscot Music & Entertainment, a company with a history of breaking gospel acts such as John P. Kee, Deitrick Haddon, and Vashawn Mitchell.
"I am very excited and optimistic about the partnership," says Marquis Boone, an Atlanta-area pastor and motivational speaker. "[Tyscot] unequivocally gets the vision and recognizes the sound and movement that MBE is nurturing. With this deal, we will introduce the world to some fresh new voices and incredible talent. The first artist will be Casey J whose voice is simply refreshing. We are gearing up for her live recording in January with a projected second quarter release date. I truly believe this is history in the making and I am convinced that with Tyscot Music & Entertainment on board, Casey J will be the new breakout artist of 2015."
"I am also very excited about the new relationship," says Tyscot Music & Entertainment President Bryant Scott, who oversaw recent Top Ten hits by the legendary Rance Allen Group and Anthony Brown & Group therAPy. "It is totally God's favor that has afforded us the opportunity to work with MBE and Casey J as we all embark on an incredible new musical and spiritual journey together."
Click here to hear JGM's recent interview with Casey J.