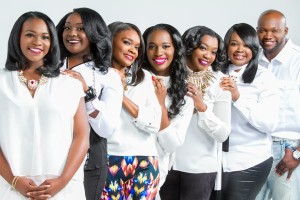 By Bob Marovich
When Regina Showers was born, her father asked God to give his baby daughter the gift of song.
His prayer was answered tenfold.
Not only did Regina rise up singing but so did her siblings Angela, Tiffany, Ciara, Tabitha, Melody, Bobby, Timothy, Titus, and Thaddeus.
Known as The Showers, the family gospel group has earned En-Sound and Rhythm of Gospel Awards and sang on BET's Bobby Jones Gospel, the gospel music equivalent of appearing on Soul Train or American Bandstand.
In the wake of the group's new single, "Better," JGM's Bob Marovich talked with Regina Showers about the group's evolution from hometown heroes to national recognition.
The Louisiana-born siblings have sung together since they were knee high to a duck, but they did not record their debut album until 2009. Released independently, Hear My Prayer garnered plenty of attention from radio announcers, from JGM's predecessor, The Black Gospel Blog, and gospel music enthusiasts who immediately likened them to another group of gospel singing siblings—the Winans.
Despite the plaudits, the Showers found that the road to recognition was not an easy one to travel. "There was more we had to learn about the music business," Regina acknowledged, "but we knew that if the Lord did it for other groups, he would do it for us."
Schooling themselves on the business side of the music industry, the Showers pressed on, releasing a new single, "Praise Your Way Through," in 2013. It earned Bobby Jones' "Power Pick of the Month" in October 2013 and landed the group on his popular television program, Bobby Jones Gospel, a month later.
"We watched [Bobby Jones Gospel] all the time," Regina reminisced. "Being on the show was a dream come true."
"Praise Your Way Through," produced by Bruce Robinson Jr. with vocal production from Shawn Willis and Grammy Award winner Myron Butler, is part of the Showers' new self-titled CD, set for an April 21 release. The CD will be pressed on the family's own record label, Aquila and Priscilla, named for first century Christian missionaries mentioned in Acts 18. Habakkuk Music, another label name derived from a Biblical reference, will handle the distribution.
The CD party will be held on April 10 at Greater St. Stephen Full Gospel Baptist Church in New Orleans.  Watch for a remix of "Better," featuring ace Christian hip hop artist Canton Jones.
Regina admits that she still "has moments" during the relentless responsibility of touring and promotion, "but when someone says how our song touched their lives or how it helped them, it makes me feel that it is all worthwhile."
The follow-up single, "Better," written and produced by gospel artist Deon Kipping, was named JGM's Pick of the Week on May 26, 2014, and continues to impact radio. For Regina, the success of "Better" and the new album is about more than charts and ratings: "I want listeners to come away changed in every area of their lives."
For more information, visit The Showers at www.theshowers.org.