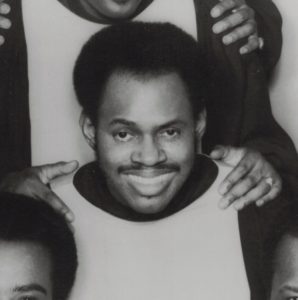 JGM friend Tim Dillinger-Curenton wrote this wonderful remembrance of Arthur Freeman, who transitioned to glory on May 7, 2020.
I am saddened to share the passing of one of gospel music's originals, Arthur Freeman.
Arthur's work in gospel began as a member of Bishop William Morris O'Neil's Christian Tabernacle in Harlem. He joined Christian Tabernacle as a teenager and was a featured soloist in the choir, which would be directed by other young, budding talents including Alonzo Atkins (later of James Cleveland's Southern California Community Choir) and Bennie Diggs. Freeman, Diggs, Wilbur Johnson and John Hason (all of Christian Tabernacle) joined forces with Isaac Douglas to form the nucleus of the original incarnation of the Isaac Douglas Singers, recording their first album, Lord Have Mercy, on United Artists Records gospel subsidiary, Minit Records in 1969.
In 1970, Diggs, Freeman, Johnson and Douglas founded the New York Community Choir, and signed with Creed Records in 1971, releasing Faith Will Survive and A Little Higher for the label. During those years, the choir began a trailblazing partnership with poet Nikki Giovanni for her albums, Truth Is On Its Way and Like a Ripple on a Pond, a set of innovative projects that fused Giovanni's poetry with traditional gospel songs. The collaboration with Giovanni took the choir beyond the gospel audience, into the epicenter of the Black Arts Movement, onto college campuses, performing at rallies and festivals. The choir would record three albums for Savoy Records between 1974 and 1976 before signing with RCA Records where they would experience a commercial breakthrough. Freeman led many of the choir's most enduring hits in those years, including "Let's Go Higher," "You Shall Receive A Just Reward," and "Lord Jesus Wash Me."
Arthur emerged as one of the key songwriters of the New York Community Choir during the RCA years, writing the lyric for what many remember as their biggest and most controversial hit, "Express Yourself," which took the choir onto Billboard's R&B and Disco charts in 1977. Freeman recalled the outrage over the song's crossover: "A lot of them [church critics] back in those days were stuck in their old ways. We were going to the churches to sing and sometimes they would sit in judgement, but before we left, they'd be dancing and singing."
The choir furthered the controversy by performing in discos, including New York's famed Paradise Garage. Freeman addressed the controversy in the album's liner notes, writing "How can we separate gospel from disco, country, pop, R&B, contemporary music? The Lord said, 'Come before his presence with singing and make a joyful noise.' It is our endeavor to reach the masses, men of every birth."
Additionally, Freeman was a member of the choir's R&B offshoot, Revelation (comprised of himself, Diggs, Phillip Ballou, and Arnold McCuller), which signed with RSO Records in 1975. The group toured with the Bee Gees and enjoyed moderate success with their singles "Get Ready for This" and "You To Me Are Everything." He co-produced their second album, Get In Touch, with Bennie Diggs and left the group in 1980. Additionally, he was a session singer during those years, recording background vocals for artists including Carly Simon, Bette Midler, Sylvester, Dan Hartman, Vicki Sue Robinson, Roberta Flack, Donny Hathaway, and many more.
After leaving the music business, he began working in a group home with youth. He returned to college and became a social worker. He remained involved with music in his home churches. In 2018, he recorded his first and only solo EP, Remember.
Thank you, Tim. We pledge to remember Arthur Freeman and ask our readers for their prayers for his friends, family, and many fans.
Written by : Bob Marovich
Bob Marovich is a gospel music historian, author, and radio host. Founder of Journal of Gospel Music blog (formally The Black Gospel Blog) and producer of the Gospel Memories Radio Show.